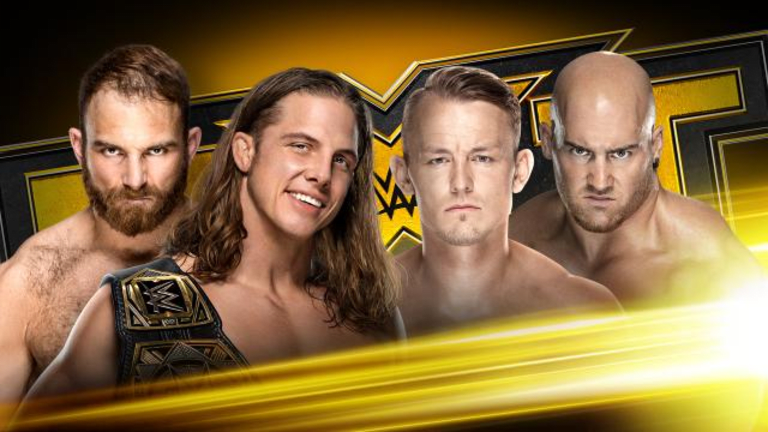 WWE NXT 05-13-20 Preview, Live Coverage & Results
Tonight's WWE NXT episode will again air on a tape delay from the closed-set Performance Center in Orlando, Florida.
Finn Balor will return to in-ring action on tonight's show as he faces Cameron Grimes. There will also be an NXT Tag Team Championships match with Matt Riddle and temporary partner Timothy Thatcher defending against Imperium's Marcel Barthel and Fabian Aichner. No other matches have been announced as of this writing.
WWE.com is focusing on the following points for tonight's NXT episode:
* Can Riddle & Thatcher ward off the threat of Imperium?
* Finn Balor detours on the search for his attacker to face Cameron Grimes
Stay tuned for updates on tonight's NXT show and be sure to join us for live coverage at 8 pm ET.
LIVE COVERAGE
To start the show we see a video recapping what happened last week on NXT. NXT kicks off with Matt Riddle and Timothy Thatcher coming out to the state. The NXT Tag Team Championship match kicks off the show tonight. 
Thatcher and Riddle vs Imperium 
Thatcher and Barthel start the match. Thatcher takes down Barthel and starts to grind him out. This is a very technical match and both men look to put pressure on the other. Barthel grinds and pounds Thatcher but both men counter each other moves. Thatcher goes for the submission and is forced to break. Barthel reaches out and tags in Aichner. Barthel goes for the sneak attack on Riddle but Riddle attacks him first. Thatcher goes for the tag but Riddle is not there. Riddle is able to tag in and Aichner catches him. Riddle goes for the sleeper and both men trade suplexes. Riddle does a suplex and a bro kick to Aichner. Aichner tags in Barthel and they almost get the pin. We cut to commercial break. Riddle is desperate to make the tag but Aichner prevents that.  Barthel tags in and goes for the pin. Riddle kicks out and Aichner tags in. Aichner also fails to get the pin and Barthel tags in. Barthel continues to prevent Riddle from getting the tag until a mocking flip into Thatcher. Thatcher gets knocked off the apron and is upset and walks away from RIddle. Thatcher yells that it is up to Riddle and walks backstage. Block by Riddle but both men team up against Riddle. European bomb by Imperium and they become the new NXT Tag Team Champions.
Winners: Imperium  
Up next we will see the NXT Interim Cruiserweight Championship Tournament continue as well as talk about the fight between Io Shirai, Rhea Ripley, and NXT Women's Champion, Charlotte Flair. 
Matt Riddle confronts Thatcher who is being interviewed and both men brawl backstage. 
Tegan Nox vs. Indi Hartwell
Indi calls Tegan not impressive. Indi throws Tegan into the canvas repeatedly. Indi goes for the pin but Tegan counters. Strike to Tegan's back and she then stomps at her in the corner. Tegan begins to battle back with a punch and big boot. Big forearm by Indi and then a back press results in a two count. Indi sends Tegan into the corner but Tegan sends her to the outside. Indi goes from the top rope into Tegan and she is caught into a chokeslam. Tegan unloads on Indi and we a European undercut in the corner. Then a cannonball into the corner and we see a diving crossbody, The Shiniest Wizard results in Tegan getting the win. 
Winner: Tegan Nox
We see a recap of what happened last week when Charlotte Flair was disqualified, Rhea Ripley's return, and the brawl between Io and Rhea backstage. Rhea mentions that the thought of Charlotte walking with the NXT title sickens her. She says she will be the one to bring the title back to NXT, and the fight has just begun because the NXT Title belongs to her. 
Riddle is seen face timing with William Regal backstage. He says that he will have a match against Thatcher later tonight. Thatcher interrupts and attacks him. 
Tony Nese vs. Jake Atlas
Tony Nese is 0-2 and is unable to advance in the tournament. Tony Nese begins his attack but Atlas's agility leads to him coming back. Nese does a top rope slingshot to stop Atlas's momentum. Nese stomps at and does a suplex but Atlas kicks out. Nese moves for the submission but Atlas counter. Nese himself has to kick out. Atlas does a flying neck breaker and goes for the top rope. Nese catches him and chops at Atlas who is barely hanging on. Atlas battles back and does a Rainbow DDT and gets the win.
Winner: Jake Atlas 
Adam Cole and the Undisputed Era are all together on a Skype chat. They start with the Original 3 until Strong joins. Kyle O'Reilly mentions how Cole beat Dream last week. They then talk about Dexter Lumis. They all agree that Roderick Strong will face off against Dexter Lumis. 
We see a segment with Killer Kross and Scarlett Bourdeaux and they say that Tomasso Ciampa was the first but will not be the last. Up next will be Finn Balor vs Cameron Grimes. We also see a package of Dakota Kai talking about her rehab and her decision to change. She also touches on her partnership with Raquel Gonzales. DX is here and they will make their announcement next. 
DX mentions how Friday will be the 25th anniversary of the first In your House. On June 2 it will be NXT Takeover: In Your House. 
Finn Balor vs Cameron Grimes
Grimes picks up Balor and drives him into the corner. Balor comes back with a knee and he crashes Grimes into the mat. Grimes goes for the submission and Balor is able to get up. Balor does a stomp and chops at Grimes in the corner. Grimes counters with a takedown and with pounding him into the mat. Sunset flip and kick by Balor. Balor goes for a sling blade and Grimes does a powerbomb and Balor kicks out at two. We cut to commercial break. 
After the break, Grimes is on the attack until Balor counters. Balor almost wins when Damien Priest comes out and attacks. Due to the distraction, Grimes is able to get the pin. After the match Priest attacks Balor and reveals that he is the one who attacked Balor a few weeks ago.
Winner: Cameron Grimes
Jack Gallagher vs Isaiah "Swerve" Scott
Gallagher is 0-2. Scott is making his way into the ring and Nese comes out and attacks him. Gallagher smiles at Scott being slow to get into the ring. He immediately attacks but Scott breaks the pin by touching the bottom rope. Kick by Gallagher on the outside. He goes for the pin but Scott kicks out at one. Irish Whip, knee, and back press by Gallagher but Scott kicks out. Gallagher targets the midsection and does an abdominal press. Scott makes his way to his feet Scott avoids the momentum and nearly wins but Gallagher kicks out at two. Scott begins to kick at Gallagher and goes for the finisher but Gallagher sets in for the submission. Scott battles to his feet and reverses the hold. Gallagher does a kick to the ribs and gets the win. With this win, Scott will not move forward in the tournament.
Winner: Jack Gallagher
Kayden Carter vs Aliyah
 Aliyah is on the attack first. Robert Stone comes out and stares at Aliyah. Aliyah says are you watching this? Aliyah goes to the top rope and Carter takes advantage. Back kick by Carter results in a kick out at two. Carter counters with a submission attempt and Aliyah taps. After the match, Aliyah goes to speak to Robert Stone but he does not seem willing to. 
Winner: Kayden Carter 
Up next, we will have dinner with the Garganos.  They boast about their recent wins. They say it is their way or none. They warn anyone who stands in their way. Johnny Gargano specifically will target Keith Lee next. They say they will show what glory really is and they will bask in their glory. 
Next week Maverick vs Kushida and Fantasma vs Tozawa for the Interim Tournament and we will see Rhea Ripley vs Io Shirai. 
Timothy Thatcher vs Matt Riddle
Both men start the match grappling. Riddle kicks Thatcher off and both men have a hold on each other. Thatcher sends Riddle to the floor and both men try to lock in a submission. Both men get up and have a hold until a takedown by Riddle. The referee breaks them up and Riddle takes down Thatcher. Guard pass by Riddle and then a double wrist lock. Cover by Thatcher and multiple kicks by Riddle. Thatcher rolls to the floor. Riddle lights up Thatcher with strikes. Thatcher rolls away but stomps at Riddle's toes. He drives his knee into Riddle's back. Thatcher goes for the submission but Riddle counters and locks in his own submission. Riddle is forced to break when Thatcher gets to the bottom rope. Thatcher punches at Riddle and he goes for his own submission. Riddle almost gets in the armbar and gets a two count. Riddle picks up Thatcher with one arm and then does a powerbomb. Both men are in the middle of the ring punching at each other. Thatcher focuses on Riddle's ankles and Riddle is able to get him off. Brotus Sleep by Riddle and both men are slow to get up. Riddle goes to the top rope for the floating bro and Thatcher locks in the armbar. Riddle is able to reverse and drops Thatcher down. Thatcher goes for the arm and then clutches Riddle's ankle. Riddle gets the win with a surprise roll-up. Thatcher attacks after the match and sends him into the corner into an armbar and he is forced to break it up. 
Winner: Matt Riddle
What did you enjoy most tonight? Are you as excited as I am for In Your House? Stay tuned to the site for any breaking news. You can follow me on twitter @undisputedeva. Also to get exclusive backstage coverage you can become a member today with a 30-day free trial.