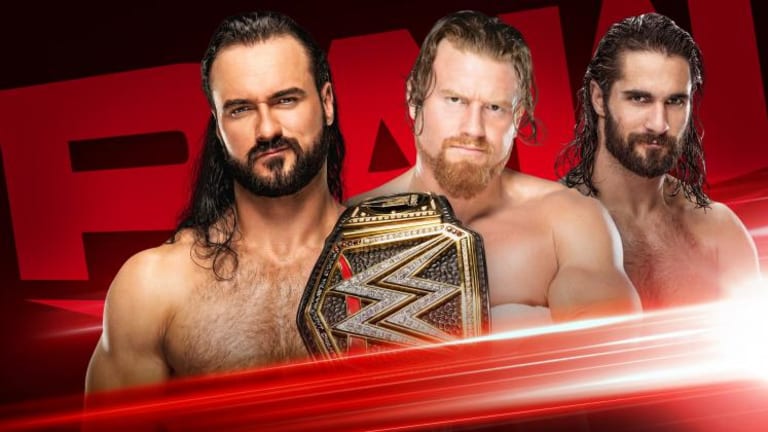 WWE Raw - 05/04/2020 Preview, Results, and Live Coverage
WWE is back with another episode of Monday Night RAW tonight from Orlando, Florida at the WWE Performance Center on the USA Network.
A lot of tonight's show has already been announced and we will be seeing a whopping four matches! Tonight's main event will be the Last Chance Gauntlet Match, with the winner of the match being added to the men's Money in the Bank Ladder Match this Sunday. The winner will be replacing Apollo Crews who suffered an injury last week in his match against Andrade.
As this is RAW's go-home show for the Money in the Bank pay-per-view event, we can expect lots of storyline progression, certainly in terms of the WWE Championship. Drew McIntyre will face Murphy in what should be a fantastic match, with Seth Rollins looking on from ringside to scout his opponent in Sundays Championship match.
Here's what's on tap for the show:
Non-Title Match:
Raw Tag Team Champions The Street Profits (Montez Ford & Angelo Dawkins) vs. The Viking Raiders (Erik & Ivar).
Tag Team Match:
Brendan Vink & Shane Thorne (w/MVP) vs. Cedric Alexander & Ricochet.
Last Chance Gauntlet Match
No competitors have been announced as of yet.
Non-Title Match:
WWE Champion Drew McIntyre vs. Murphy
Stay tuned for updates on tonight's RAW and be sure to join us for live coverage at 8 pm ET.
LIVE COVERAGE
We start tonight with a recap primarily featuring what occurred between Drew McIntyre and Seth Rollins last week. We start tonight with MVP's VIP Lounge. This week's lounge is featuring the three Raw women that will be in the Women's Money In The Bank Match. We are shown a package where the scheduled triple threat last week did not happen because all three attacked each other prior to the match starting. Out first is Asuka followed by Shayna Baszler and finally Nia Jax. Nia asks MVP if he even watches Monday Night Raw. Asuka responds in Japanese. Shayna says she does all of her talking with her actions. Shayna calls out Asuka and as Asuka is responding in Japanese both women begin to face off and then they both attack Nia. MVP separates Asuka and Shayna and that is how tonight's MVP lounge ends. 
Samoa Joe joins Tom Phillips and Byron Saxton in the commentary team. The commentary team highlights how Apollo Crews has withdrawn from the Money in the Bank match after last week's match with Andrade. There is a qualifying match that will be up next in which, Bobby Lashley will start us off. Before the commercial break, we are told next week Becky Lynch will confront the winner of the women's Money In The Bank match. 
Last Chance Gauntlet Match
Bobby Lashley and Titus O' Neil start off this match. Both men start this match in a hold and then Titus strikes at Bobby in the corner. Huge spear by Bobby and he pins Titus. The next competitor is Akira Tozawa. Tozawa immediately kicks Bobby and nails a missile dropkick. Another spear by Bobby and he pins Akira. Next up is Shelton Benjamin and Bobby meets him at the apron. Shelton goes to the top rope for a blockbuster. Bobby battles back and he is sent over the top rope and Shelton meets him with a knee to the face. Both men go over the top rope. Bobby continues to break the count and he jumps over an attempted spear by Bobby. Bobby Lashley pins Shelton with the second spear he attempts. We go to a commercial break with Humberto Carillo now in the ring. Carillo is on the attack but Lashley battles back. Lashley stomps at Carillo in the corner and that leads to him being disqualified by the referee. After receiving those news Lashley goes on the attack with a spear and punishes Carillo. The referees force Lashley to leave and the next one out is Angel Garza with Zelina Vega. Garza vs Carillo is brutal which is usual for their matches. Carillo continues to kick out of Garza's multiple cover attempts. Garza goes for the Panama moonsault but Carillo kicks out. Carillo rolls and Garza sets up for the wing clipper. Carillo counter and wins. Austin Theory is out next and he stomps at the already hurting Carillo. Zelina Vega mocks Carillo ringside but Carillo begins to battle back. Theory catches Carillo with a kick but Carillo counters and doesn't allow Theory to lock in the Theory lock. Theory connects with a dropkick and Carillo goes to the corner. Carillo and Theory trade punches and Carillo connects with a major elbow.  Carillo is caught mid-air by Theory but he kicks out. Theory sends Carillo into the corner and a superplex by Theory but Carillo catches Theory. Carillo eliminates Theory and we see the return of AJ Styles. Carillo is on the attack against Styles. Styles knees at Carillo's midsection and then stomps at it. Styles sets up Carillo but Carillo forces him to break his hold as he grabs the bottom rope. Styles targets the midsection but Carillo counters with an elbow. Styles then takes several shots at the left leg of Carillo. Styles sets up Carillo and puts pressure on his calf and Carillo once against grabs the bottom rope. Carillo moves to the corner and when it looks like it might be done Carillo begins to battle back. Carillo almost catches Styles and both men are slow to get up after simultaneous clothesline. Style with a pump handler gut breaker and locks in the calf crusher. Carillo immediately taps and it is official AJ Styles has qualified for Money In The Bank. After the match, AJ smashes Carillo into the post several times. After the match, AJ Styles says it's really him and he will do anything to win Money In The Bank. 
Winner: AJ Styles 
Seth Rollins is interviewed by Charly Caruso in the ring. Seth says what is meant to be will be and he has the utmost confidence in his disciple Murphy. Seth says that while Drew McIntyre is a fighting champion, he is not the leader. Seth says that it is his destiny to be the champion that takes us into the future.  Seth says that he is willing to sacrifice himself for the greater destiny. MVP is backstage with his team,  Brenden Vink and Shane Thorne and they will face off against Cedric Alexander and Ricochet. They say they will not lose again against Cedric and Ricochet. 
Murphy is interviewed by Caruso and he says he teamed up with Rollins to be better, He wants to be as good an even better than Rollins. Murphy says he believes Rollins can beat Drew but he knows that he can. 
Brenden Vink and Shane Thorne vs Cedric Alexander and Ricochet
Vink grabs a hold of Thorne and forces him into the corner. Thorne tags in and Cedric is able to neutralize him. Both Cedric and Ricochet work Thorne over and do not allow him to go to his corner. Vink tries to take a swipe at Cedric and Thorne takes him out of the ring. Vink is now legal and he slams Alexander into the barricade. Vink tags in Thorne and Cedric crawls and is able to tag Ricochet. Ricochet works at Thorne. Ricochet tags in Cedric and Vink are forced to break up Cedric's pin. Ricochet forces Vink out of the ring and Cedric is able to battle back. Vink is now the legal man and Ricochet superkicks Vink and Thorne but he is then caught by a kick by Vink. Vink pins Ricochet.
Winner: Brenden Vink and Shane Thorne 
Up Next will be the Street Profits vs the Viking Raiders and we once again see the greatest moments of MITB and are shown when Lesnar won Money In The Bank in 2019 and the Brock Party started. We then see 2006 with Shelton Benjamin's moonsault and Bayley's cash in 2019. 
Tag Team  Match
Street Profits vs Viking Raiders
Street Profits are out first and they are ready to silence the naysayers. We go to commercial break as The Viking Raiders come out. Ford begins the match and he is attacked by both members of the Viking Raiders. Ford is able to tag in Dawkins on the shoulder of Ivar. Ford tags in and Rowan does too and Rowan almost pins Ford. Rowan tags in Ivar and Ivar works at Ford and sends him into the corner. Rowan tags in and goes shoulder first into Ford. Ford counters and rolls up Rowan. Ford tags in Dawkins and he explodes Rowan and a bulldog to Rowan. Rowan drags Dawkins out but Dawkin outsmarts him and Ivar. Dawkins is working Rowan in the middle of the ring. Ford tags in and lands a dropkick into Rowan. Ford tags in Dawkins and Rowan lands a big punch onto Dawkins. Rowan tags in Ivar and he rolls over both members of the Street Profits. Rowan does a cannonball into Dawkins but Dawkins kicks out. Dawkins is sent to the Viking Raiders corner and Rowan comes in and Dawkins kicks out. Dawkins catches Rowan with a gut wrench suplex and both men tag their partners in. Ford catches Ivar with a couple of punches and kicks and lands a kick to the back of the neck. Ford foes to pick up Ivar tags in Dawkins and both men double team Ivar. Ivar kicks out at two when Dawkins goes to pin him. Ivar busts through and does a double back elbow to the Street Profit. Rowan is tagged in and he works over Ford. Ford catches Ivar with a kick but he is worked over by both Viking Raiders. Dawkins saves Ford and Ford tags in Dawkins. Ford goes from the heavens and Dawkins goes for the pin but that is broken up by Rowan. Ivar tags in Rowan and they do a Vikings Experience and they pin Dawkins. 
Winners: The Viking Raiders
Drew is interviewed backstage and he says Rollins took advantage of Murphy. He says that if The Messiah is willing to sacrifice his disciple who is he to deny the people the chance to see the slaughtering. Up next we will see Charlotte Flair. Rey Mysterio is backstage and he says he is competing int he mos unique ladder match in WWE history. He mentions how the 6 men and the 6 women will be fighting at the same time at WWE headquarters. 
Charlotte mentions how she will make Io's dream come true when she has the privilege of bowing down to the queen. Liv Morgan interrupts and she mentions how Charlotte was brought up with a silver spoon. Charlotte says that she knows who she is and she is damn proud of it. Liv calls out the Queen and asks a referee to come down and we will see what happens. 
Charlotte Flair vs Liv Morgan
Flair has Morgan in a stronghold. Morgan rolls out of the way and Flair kicks her. Flair trash talks Morgan and Morgan is able to counter with a forearm shot. Flair into the corner and Liv does a dropkick and sends her into the corner again. Morgan takes Flair for a ride until she is taken down with a clothesline.  Flair is attacking Morgan until she battles back. Morgan sends Flair multiple times into the mat and she gets a two count. Flair battles back and stomps at her until Morgan does double knees to the face. Flair interrupts the hurricanerana and does a powerbomb but Morgan kicks out at two. Morgan goes to the top rope and is caught by Flair into the Boston Crab. Morgan fights it and gets to the bottom rope. Morgan nearly gets the queen after she does knees to the jaw from the middle rope. Morgan goes for the oblivion from the middle ropes but she is caught by Flair. Flair bridges into the Figure Eight and Liv Morgan taps. 
Winner: Charlotte Flair
MAIN EVENT
Murphy vs Drew McIntyre
Seth Rollins accompanies Murphy to the stage. McIntyre is on the attack first inside the ring. Rollins is looking on at the top of the stage. Murphy runs away and McIntyre catches him and sends him into the steel ramp. McIntyre continues to throw Murphy around and sends him over the barricade. McIntyre stares down Rollins as he continues his attack against Murphy. Murphy uses the distraction and sends McIntyre into the barricade and into the post. Murphy goes to the top rope and Meteora to McIntyre but he kicks out at two. Rollins slowly makes his way down the ramp. According to Samoa Joe stalking his way down. Murphy begins to chop until he is caught by several chops by McIntyre. Murphy is down and McIntyre stares at Rollins as the referee tends to Murphy. Murphy catches McIntyre with two kicks to the face and goes to the middle rope and McIntyre sends him into the barricade. McIntyre goes to the top rope and does an elbow to Murphy. McIntyre goes to the middle rope with Murphy on his shoulders. Murphy battles out and he kicks at McIntyre and does a powerbomb. Murphy looks to Rollins and mocks McIntyre with a claymore countdown until McIntyre catches him with a Claymore. Rollins move to the steel steps and McIntyre begs him on his knees to get in and fight him right now. It looks like Raw ends with Rollins walking to the back and with McIntyre standing tall until Rollins catches McIntyre with a kick. Rollins yells that this is bigger than Drew and him and is quiet when he sees the title. Rollins goes for the stomp but Drew battles back and catches him with a headbutt. Drew goes for the Claymore and Rollins retreats. 
What did you think of tonight's Raw? Stay tuned to the site for any breaking news and you can follow me on Twitter @undisputedeva.