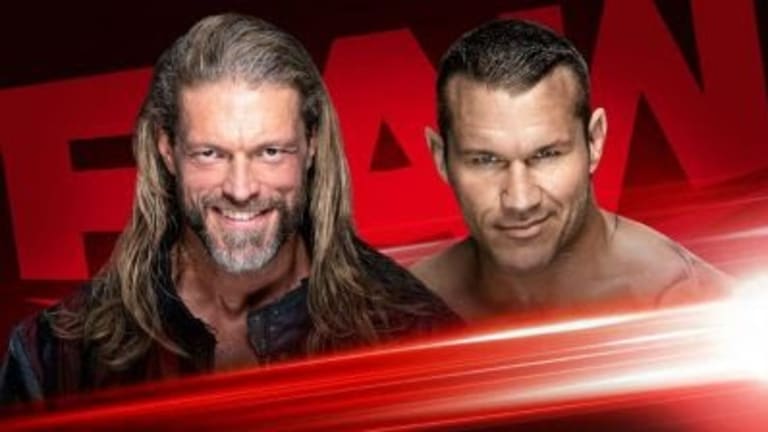 WWE Raw (5/11/2020) Preview, Results, and Live Coverage
Tonight's WWE RAW will once again take place from the closed-set WWE Performance Center in Orlando, Florida with all of the fallout from last night's WWE Money In the Bank pay-per-view.

As of yet, WWE has not announced any matches for tonight, but WWE Hall of Famer Edge and Randy Orton will appear to continue their bitter feud. It was also announced that RAW Women's Champion Becky Lynch will confront Money In the Bank winner Asuka. News coming from multiple sources tonight suggests that Lynch will also be making a huge career altering announcement. The feud between The Viking Raiders and RAW Tag Team Champions The Street Profits will also continue.

WWE.com is focusing on the following points for tonight's RAW:

* Becky Lynch to confront Women's Money in the Bank contract holder Asuka this Monday on Raw.

* Edge is again on the hunt for Randy Orton.

* How will the Street Profits and Viking Raiders rivalry evolve?

Stay tuned for updates on tonight's RAW and be sure to join us for live coverage at 8 pm ET


LIVE COVERAGE
We start the show with a package highlighting the best moments from the MITB match last night. The Women's MITB winner was Asuka with Otis being the Men's winner. 
Becky Lynch enters the stage where there is a stable with the MITB briefcase. She is emotional as she makes an announcement. She says she has both joy and sadness at her announcement. She is emotional when she says she walked through the doors of the Performance Center in 2013. She wondered if they cared and she is happy that they cared through injury and triumph. She thanks the fans and she has grabbed onto the fans. Becky Lynch says she has to go away for a while and Asuka interrupts. Asuka says that the briefcase is hers and Becky calls Asuka the best wrestler in the world. Becky says the match last night wasn't for the opportunity to win the title but she unlocks the tile and unlocks the Raw Women's Championship Title. She says that Asuka is the champion and Asuka celebrates. Asuka celebrates with the RAW title and jumps on top of the commentary table. 
Becky tells her to go be the champion because she is about to go be a mother, Asuka hugs her and chants Becky's name. This makes Asuka the second-ever female Grand Slam champion. The first one is the Smackdown Women's Champion Bayley. 
They recap Becky's announcement and she is interview backstage and hugged by Rey Mysterio, Natalya, Liv, Street Profits, Bianca Belair, R Truth, Cedric Alexander.
Bobby Lashley vs Humberto Carillo
To begin after Lashley is in the ring we see a recap of Bobby Lashley being eliminated from the gauntlet match last week. He was disqualified by the referees and attacked Carillo after the DQ. Lashley immediately drives Carillo into the mat and slaps him. Carillo tries to fight and Lashley drives him into the mat. Lashley goes for the spear but Carillo sidesteps and Lashley goes to the floor. Lashley catches Carillo as he goes for a move but is then sent to the floor. Both men are in the ring and Carillo's kick sends Lashley out of the ring. Carillo jumps from the barricade and is caught by Carillo. Lashley takes his time but drives Carillo into the steel post. He then stretches out Carillo who is leaning in the post. Lashley picks Carillo from the sky and has the Full Nelson locked in the middle of the ring. Carillo fades away and Lashley keeps it on for a bit more and tosses Carillo aside. 
Winner: Bobby Lashley
The Street Profits and the Viking Raiders are backstage tonight they will be in a basketball game vs each other. Tonight Randy Orton and Edge are back, are they on a collision course. Asuka is backstage being interviewed by Charly Caruso. She is joined by Kairi and they celebrate together. 
We see a recap of the Last Standing Match between Edge and Randy Orton at Wrestlemania 36.  We then see a recap of Andrade and Apollo Crews and see Zelina Vega's faction fighting amongst themselves backstage. 
Angel Garza vs Akira Tozawa
Garza grabs Tozawa and sets him up in the corner. Garza sets Tozawa in the corner again and chops at him in the corner. Tozawa drives his shoulder but he is hit by a knee to the chest. Tozawa battles back but Carillo goes for the cover. Tozawa gets his shoulder up and Garza sets Tozawa in the corner and he gets a PK to the chest. Garza stretches Tozawa and he tells Theory to get in the ring. Garza does a wing clipper to Tozawa while staring down Theory. 
Winner: Angel Garza
Theory and Garza begin to face off but Andrade and Zelina Vega break it up. Drew McIntyre interrupts and gets into the ring.  Andrade and Garza laugh after a Claymore to Theory. Drew does a Claymore to Garza. Drew tells Andrade to step up and if he is ready for a fight. It looks like up next will be a champion vs champion match. 
Andrade vs Drew McIntyre
Drew begins with a shot to the arm to Andrade. Drew continues to work on the arm and trash talk Zelina Vega. Andrade fights back but is cut down by Drew. Drew sends Andrade into the top turnbuckle. Drew does a kick to the gut of Andrade. Drew tosses Andrade into the barricade and chops him on the outside. Andrade does a kick to the side and Andrade is caught and tossed into the apron. Drew rolls in to ring to break the count. Andrade hides at the bottom of the ring and he then attacks Drew. Andrade does a baseball slide into Drew McIntyre. He focuses his attack on the left arm of Drew. He is forced to break apart his submission attempt. Double knees to the arm of Drew but he kicks out at one. Andrade continues to work on that left arm.  Drew counters but Andrade catches him with a back elbow. Drew slams him into the corner and tosses all around the ring twice and does a big boot to Andrade. Andrade is reeling and both men trade punches. Big powerbomb by Drew but Andrade kicks out at two. Andrade attacks and Drew kicks out at one. Andrade sets up the Hammerlock DDT, Drew counter, and both men trade punches, back elbows, and headbutts. Drew sets up for the reverse Alabama slide. Andrade tries to escape but is sent face-first out of the reverse Alabama slide. A Claymore right to the face of Andrade is how this match ends. Drew grabs the mic at the end and he says Rollins was a great match for him. He talks about the brand invitational and he says everybody hates the Smackdown superstar that picked him. Next week live on Raw will be Drew McIntyre vs King Corbin. He is excited to have a Claymore fit for The King. 
Winner: Drew McIntyre
Alexa Bliss and Nikki Cross are preparing for their upcoming segment. Bobby Lashley and MVP are backstage and he asks when will Lashley let Lashley out? Lana walks over and MVP tells him that he isn't looking to manage anybody but if Lashley is interested, he can come find him. 
Alexa Bliss and Nikki Cross come out for their Moment of Bliss. Nikki is excited for the Man becoming the Mom. Nikki wishes all mother including expectant mothers like Becky Lynch, Happy Mother's Day. The Iiconics interrupt and are welcomed by Bliss Cross. Nikki Cross does the Iiconics pose. Peyton Royce says that a ginger junior will not upstage their return. The Iiconics say they are not leaving without a match against Nikki Cross and Alexa Bliss. It will not be a title match but Bliss and Cross agree to a tag match.
Alexa Bliss and Nikki Cross vs The Iiconics
Nikki and Peyton start the match. Cross is quickly on the attack. She sends Peyton into the mantle and she is kicked by Bliss. Bliss then mocks Billie Kay. Peyton tags in Billie and they double team, Nikki. Peyton tags in and she then kicks out twice. Peyton goes for the cover but a kick out at two. Peyton drags Billie into the Iiconics corner. Billie tags in and tosses around Cross. Billie works on Nikki's left arm. Peyton tags in and they double team Nikki Cross again. Nikki kicks out at two and Peyton prevents the tag. Cross battles back and both women tag their partner in. The Iiconics double team Alexa Bliss and win. 
Winners: The Iiconics
Rey Mysterio joins Charly Caruso backstage. He says he is feeling great and he congratulates Rollins. Rollins refuses to shake hands with Mysterio. 
Brenden Vink, Shane Thorne, and MVP vs Cedric Alexander, Ricochet and R Truth
R Truth and Thorne start the match. Truth challenges Thorne to do the splits. He does and is in pain and Cedric tags in. Cedric is on the attack and Thorne tags in Vink. Vink is firmly in control and goes for the submission. Cedric looks ready to tag in but Thorne who is freshly tagged in prevents it. He then works over Cedric. Cedric does a shot to the midsection but is dragged into the opposition's corner. A big right hand from Vink takes down Cedric. Cedric tags in Truth and MVP tags himself in. R Truth is on the attack and the pin and it is broken up by Thorne. Cedric is caught by Vink and Ricochet takes down everyone. MVP attacks but R Truth takes out his Pretty Ricky teeth and pins MVP. Bobby Lashley interrupts the celebration. He props up Truth for MVP. MVP takes a shot to R Truth and Lashley says he wants to talk with MVP. 
Winners: R Truth, Cedric Alexander, and Ricochet
Jinder Mahal is interviewed backstage by Charly Caruso. He says he is elated to see Drew prosper but he also wants to redeem himself to the WWE audience. He says his journey back to the top will be a hero's journey. We see AJ Styles awaiting the special look into The Undertaker's Last Ride. 
Shayna Bazler is interviewed by Charly backstage and she calls Becky Lynch stupid for being knocked up when she was the champion. We then see a special look to the first episode of the Last Ride. AJ Styles throws his popcorn on the screen and storms off. 
Rey Mysterio and Aleister Black vs Seth Rollins and Murphy
We see Becky Lynch being hugged by Vince McMahon backstage. Rollins looks despondent and even the disciple Murphy has noticed. Murphy and Black start the match. Murphy tries to communicate and even Black pays notice. Murphy looks for the tag but Rollins makes no attempt. Black sets up the Octopus and Murphy kicks out. Black backs up and Mysterio tags in. Murphy gets double teamed but counters. Murphy tries to get a tag but Rollins does not respond. Black tags in and we see a strong kick and Murphy kicks out. Murphy sends Black into the corner and Black then sends Murphy to the outside. Murphy catches Black and Murphy calls out for Rollins. Murphy goes for the kick but is caught and does an elbow to Black. Black goes for the pin but Murphy kicks out at two. Murphy kicks and stomps and we see a wonderful strike by Black. Black rolls to the outside. Murphy sends Black into the corner and Rollins look at him. A kick by Murphy sends Black into the steel post and out of the ring. Black and Murphy are in the ring. Big kick by Black into Murphy. Black tags in Mysterio and Mysterio is on the attack. A kick to the side of the face from Mysterio to Murphy. He sends Murphy into the barricade. Mysterio looks over to Rollins and Rollins maintains catatonic. Mysterio does a cross body and Murphy kicks out. Mysterio counters Murphy's Law and Murphy kicks out after a face plant. Mysterio tossed into the corner and he does a shot to Rollins. Rollins blocks the 619 and Rollins sends him into the barricade. He does multiple shots to the eye. Black is sent into the barricade by Murphy and Rollins sends Black over the barricade. Rollins does not allow Murphy to join him and Rollins sends the point of the steel chair into Mysterio's eye. He almost takes off Mysterio's mask and officials and referees tend to Mysterio. Rollins makes his way to the back and he takes a breath at the top of the stage. 
Winners:  Aleister Black and Rey Mysterio (DQ)
We see Mysterio being tended to backstage. Rollins says he doesn't know what happened out there. Black goes on the attack against Murphy when Murphy doesn't let him attack Rollins. We see the Street Profits and the Viking Raiders training for their basketball match up next. The Raiders say anything that they can do they can do better. The official game is up next. 
Basketball Game - The Viking Raiders vs The Street Profits
Profits make the first score. The Raiders mention how the smoke isn't good for you. Profits are up 23-0. The Profits mention how Vikings can't jump The Profits are up 74-0. The Raiders finally score a point. They think they won when the score is 74-2. 
Winners: The Street Profits
Natalya confronts Shayna Baszler backstage. Shayna says the Hart Dynasty dies with Natalya.
The Profits are celebrating their win and the Raiders mention how they let the Profits win when Ivar immediately makes many three-pointers. He even makes a slam dunk. 
Natalya vs Shayna Baszler 
Shayna goes for the submission but Natalya counters. Shayna takes down Natalya and goes for another submission. Natalya counters and goes for her own submission. Shayna escapes and Natalya does multiple shots to the face. Natalya is taken down but she battles back. Shayna sends Natalya into the corner. She is then swept off her feet by Shayna. Natalya is forced to break her hold and Shayna tries to trip her up. Baszler is in the corner and she begins to punch Natalya. Two suplexes by Baszler and Natalya kicks out. Natalya sets up the sharpshooter but Shayna counters. Shayna tries to break her arm but Natalya counters. Shayna does a big knee strike and she pins Natalya. Shayna wins and Natalya throws a tantrum in the ring.
Winner: Shayna Baszler 
King Corbin joins Charly Caruso backstage. Corbin mentions how Mysterio and Murphy landed on a secondary roof. He says he has what it takes to go one on one against Corbin. He says that he made Drew the champion that he is now. Next week he will prove to the WWE Universe why they call him the king. Up next will be Randy Orton and Edge.  
Edge comes out and says how Wrestlemania wasn't the end of Edge. Edge says he is not hunting the Viper because he got the closure he needed. Edge and his family are ready to move on and that is when Randy Orton interrupts. Orton says he came out here to say congratulations. He says at Wrestlemania the better man won. He continues to stop as he goes up the ramp and he returns to the ring. He says he tried to be the better man and he says he can't lie to Edge or to himself. He says the better man won at Wrestlemania but the better wrestler didn't. He says Edge hid behind 29 men, he won the match that he chose. It didn't take him 9 years to get back on his feet. He wants a traditional wrestling match. He says Edge hasn't wrestled since 2011 and he doesn't have it in him anymore. Orton says he has doubt in Edge's eye. He says Edge's passion and grit do not come close to his natural ability. All that passion will not knock off the ring rust. Orton mentions how Edge said he would make Orton a better performer. He asks Edge if he has the guts to face him at Backlash in a straight-up wrestling match.  Raw goes off the air as we wait for Edge's response. Charly says that if this does happen this will the best wrestling match ever. 
Stay tuned to the site for any breaking news. You can follow me on twitter @undisputedeva. Also to get exclusive backstage coverage you can become a member today with a 30-day free trial.