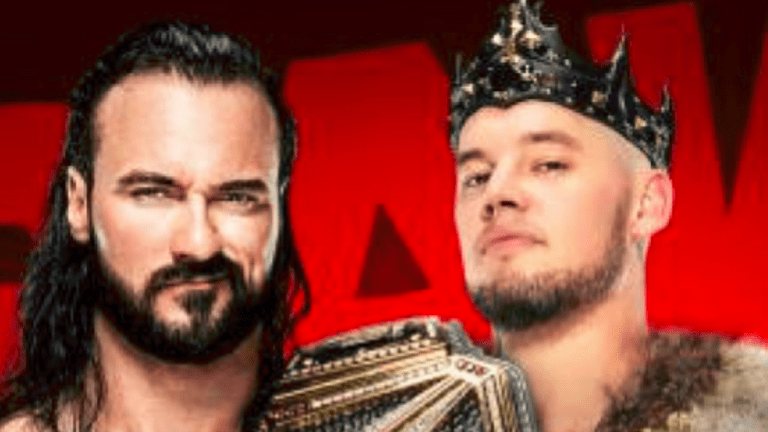 WWE Raw Preview, Live Coverage & Results 5/18/20
This week's Monday Night Raw will take place once again at the Performance Center in Orlando, Fl. The show saw a major increase in viewership last week jumping up roughly 300,000 viewers but falling just short of the 2 million viewership mark. The show did rank #1 for the most watched show in the key demographic on cable for Monday Nights.

This week's show will feature the first brand invitation for Monday Night Raw with King Corbin taking on Drew McIntyre. Be sure to follow this article throughout the day for all the updates for what is happening on the show and also for live coverage of Monday Night Raw while it's happening. Also announced for tonight's show is the Women's Tag Team Championship Match between the IIconics and BlissCross. Finally it appears the Viking Raiders and Street Profits will be competing in axe throwing tonight

**Added before the show**

Edge to give Orton an answer.
Nattie vs. Shayna in a Submission Match
LIVE COVERAGE

We start the show with a flashback of Becky Lynch's career as well as a recap of what happened last week. Tonight we will see Drew McIntyre vs Baron Corbin. Charly Caruso is in the ring and she welcomes Randy Orton. Orton says he is the better wrestler of the two and calls out Edge. Edge joins him in the ring and he says he has been chewing on a lot since last week. He knows that Orton is playing a chess game with him. He says wrestling is just a paycheck for Orton. Edge accepts Orton's challenge, they will have a match at Backlash.
We see a flashback of Seth Rollins and Mysterio last week. Rollins and Murphy are backstage and Rollins says he has had a revelation and asks him to take a walk with him. Commentary mentions how Mysterio is still undergoing medical evaluations. Murphy and Rollins are inside the ring and they embrace. Rollins says he fell to a dark place, and he thanks Mysterio for bringing him out of it. He says his attack of Mysterio has been described as heinous as well as an act of penance. He sees what happened to Mysterio as unfortunate but necessary! Humberto Carillo interrupts and he says nobody believes Rollins. Carillo calls Mysterio his idol and Rollins a coward. Rollins says while he is not dressed to fight, his disciple Murphy is happy to oblige. Murphy also has a match against Aleister Black later tonight.  
Murphy vs Humberto Carillo
This match is hard-hitting and Carillo is stopped by Murphy. Murphy goes for the cover but Carillo kicks out at two. Murphy goes for the submission and Rollins look on. Jawbreaker by Carillo, Murphy goes for the knee strike and two kicks by Carillo to Murphy. Rollins gets close to Carillo and Murphy catches him with a knee strike and wins. After the match Murphy attacks Carillo and Aleister Black interrupts. Black mass by Black and Murphy joins Rollins on the top of the stage. 
Winner: Murphy 
Corbin is yelling at someone backstage about not having his own private locker room. He calls over a referee and he asks him to fix what is wrong and make things right. He specifically says they will talk about what will happen in the match. 
Liv Morgan is backstage and she says her mom is her hero and she showed her the value of determination. She recalls her match with Charlotte Flair a few weeks ago. She learned that she is like her mom and one day she will become the Raw Women's Champion. We hear Charlotte Flair's music and we get a flashback to Smackdown. Charlotte Flair is in the ring and she is excited about the challenge because she can't wait to teach Bayley about the levels there is to being a champion. She asks Ruby Riott to come out and to tell her what she needs to say. 
Ruby Riott vs Charlotte Flair 
This match is outside of the ring and both women send each other into the post. Charlotte tosses Ruby back inside the ring. Charlotte asks Liv if she is watching this. Charlotte does a chop in the corner and Ruby sends Charlotte face-first into the middle turnbuckle. Riott forces Charlotte into a kick out at two. She then sends Flair into the mat and goes for a double wrist lock. Flair picks her up but Riott counters. Flair stomps at Riott goes for the boot and is forced to kick out. Riott goes for the Riott kick but she taps after Flair locks in figure 8.
Winner: Charlotte Flair
Charly Caruso interviews Bobby Lashley backstage until he is interrupted by MVP. He says Lashley is too busy being focused on R Truth and Lana. MVP doesn't want to cause any trouble but he asks when is Lashley going to free Lashley. 
We see a throwback to the Street Profits vs the Viking Raiders in basketball last week. Now, this week we will have the ax-throwing competition. The Viking Raiders have a camp with Vikings. They are intimated when they see the Viking Raiders throw the ax into the bullseye perfectly. 
In the ring, Kairi Sane invites us all to celebrate Asuka, the new Raw Women's Champion. Asuka says she can't believe it and is so happy. Kairi Sane showcases all that Asuka has won. She puts over how Asuka is now a Grand Slam Champion. Kairi has a flute and the celebration is interrupted by Nia Jax. Nia says Asuka was handed the title by Becky Lynch. Asuka attacks Nia and forces her to leave.
King Corbin is backstage being interviewed by Charly Caruso. He says that he can't wait to see who is the better man. 
R-Truth is in the ring and he says that his cousin Pretty Ricky has told him Lashley has been a bad man. We see a recap of what happened last week when Lashley attacked R Truth and helped MVP won. R Truth says he won't give up like his childhood hero John Cena. He also calls out Tom Brady for the 24/7 Championship. 
R Truth vs Bobby Lashley
R-Truth calls out Bobby. R-Truth then begins to attacks until he is launched into the barricade. Lashley then sends Truth into the post back first. Truth tries to battle back but Lashley continues to manhandle him. Lashley pins R Truth and we see MVP clapping at the top of the ramp. Lana is backstage throwing a fit when she sees the connection between Lashley and Lana. 
Winner: Bobby Lashley
Asuka and Kairi Sane are celebrating backstage and we see Nia Jax come into the frame and look to where Kairi Sane went. 
Alexa Bliss and Nikki Cross vs The IIconics
The Iiconics come out and say the future is right here. They also gloat over the fact that they won last week against Bliss Cross. Nikki Cross is on the attack until both her and Peyton tag in their partner. Bliss is on the attack against Billie Kay but the pin is interrupted by Peyton. Billie Kay attacks Nikki Cross who had sent Peyton to the outside of the ring. A Twisted Bliss from Alexa until Peyton gets involved. Peyton sends Bliss into the ring post and Bliss Cross wins via disqualification.
Winners: Alexa Bliss and Nikki Cross
We see Kairi Sane backstage playing her flute until she is attacked from behind by Nia Jax. The Iiconics are backstage arguing and Billie Kay slaps Peyton but then they hug. We get a special look-back at part 2 of The Undertaker's Last Ride. Part 3 comes out this Sunday. We see a flashback of Natalya vs Shayna Baszler their match is up next. Kairi Sane is being tented to backstage. She tells Asuka that she was attacked by Nia and Asuka becomes enraged. 
Nia Jax is walking backstage and she is interrupted by Asuka. Nia attempts to walk away and Asuka slams her to the floor. 
Shayna Baszler vs Natalya
Shayna immediately brings down Natalya. Natalya attempts to set up the Sharpshooter and Baszler attempts to do a submission. Baszler then manipulates the left arm. Natalya tries to get outfit but she is yanked down by Baszler. Shayna stomps away at Baszler and tries to set up a Sharpshooter. Natalya counters and she sets up the Sharpshooter. Baszler almost makes it to the ropes but she is dragged back to the middle of the ring. Baszler gets to the edge and Natalya is forced to break. Natalya then dives into Baszler. Natalya drags her into the ring and Natalya goes for a kneebar. Baszler counters into her signature clutch. Natalya taps and Baszler is forced to let go of the clutch. Natalya throws a fit as the crew sets up the ring for the KO Show. Natalya destroys the set and Samoa Joe says this is beneath the dynasty that she represents. 
Winner: Shayna Baszler
We see a recap of the fight that is ongoing with Zelina Vega's faction. We see the three backstage and they are once again fighting. Vega says she is sick of it and they will be going out tonight as a cohesive unit. She asks all three of them if they understand her individually and they all say they do. 
Kevin Owes comes out to the destroyed set of the Kevin Owens show. He thanks Natalya for getting all of the junk out of the way. He says he has been out for a while because he was a little banged up. The good news is that the Kevin Owens show is now back even with their limited set. He brings out Zelina Vega's faction. Zelina Vega interrupts KO and says Andrade is the champion, calls Garza the lethal lothario, Theory a prodigy and her the best in a long time. She calls out KO for being on the outside of the ring. He says the main reason that he is not in the ring it's because he has another guest whose name is Apollo Crews. Apollo comes out and attacks Andrade. KO makes sure that Garza and Theory do not attack Crews. 
Kevin Owens and Apollo Crews vs Andrade and Angel Garza
Garza goes for the knee of Crews and Crews counters and sends Garza into the mat face first. He tags in Owens and he is stomps and does a centaun bomb onto Garza. Andrade tags in and begins his attack on Kevin Owens. Both men trade chops in the corner. Andrade sends Owens into the corner and he counters with a clothesline. Both men trade in their partners and Crews goes after both Garza and Andrade. Zelina Vega does a distraction but there is a mix-up and Theory throws a punch to Garza. Crews takes advantage and pins Garza. Andrade and Garza attack Austin Theory. Zelina Vega calls Theory useless and they send Theory into chairs. 
Winners: Kevin Owens and Apollo Crews
Drew McIntyre is interviewed by Charly Caruso. He says he is happy to have his dream match with King Corbin. He calls him a terrible human being and calls him a dangerous individual. He says he has a special Claymore, one that is fit for a King. 
The ax-throwing training begins and Montez Ford misses by a mile. Dawkins is up next and he sends his ax into a barrel filled with water. This angers the Vikings and the Raiders and Ford have to diffuse the tension.
Aleister Black vs Murphy
Black is fast not the attack and he is kicked into the barricade. Black forces Murphy into the ring but Murphy rolls out of the way. Murphy ducks and Black kicks the ring post. We see Rollins looking at Austin Theory. He extends his hand to Theory and helps him up. Inside the ring knee strike by Black to Murphy. Austin Theory gets int he ring and attacks Aleister Black. Then both Murphy and Theory attack Aleister Black. Murphy does a knee to Black and then Theory does his signature ATL.  Rollins embraces Theory as Murphy looks on. 
Winner: Aleister Black due to DQ
We see a highlight with the achievements of Bianca Belair. The ax-throwing competition officially begins. The Raiders hit the bullseye every time and the Profits are nowhere close to the board. The Raiders cheer on the profits and Ford nails one. A cop appears and Dawkins nails one as well.
Charly interviews Apollo Crews backstage. He says the last three weeks have been the longest of his life. He will not waste any more time wondering what could have been. He says next week he will challenge Andrade one more time for the US Championship. Zelina Vega interrupts and says Crew has a choice. Crews chooses to go ahead and face off with Andrade.
The police are with the Profits and Raiders. The policewoman mentions that it is dangerous to throw axes but says they will let them go with a warning because Ivar is cute. She says Erick on the other hand, not so much. 
MAIN EVENT
Drew McIntyre vs King Corbin
Lashley interrupts with MVP by his side and MVP says they taking a personal interest in this match. MVP mentions how Corbin retired Kurt Angle and Lashley says he is putting Drew on notice. Corbin attacks Drew's left knee. Drew sends Corbin out of the ring and over the barricade. He clotheslines Corbin back into ringside. Drew goes for a claymore but Corbin evades. Corbin catches Drew and sends Drew into the barricade. MVP looks to be cheering on Drew. Corbin does big punches to Drew. He has Drew in the corner and he sends him into the floor but Drew kicks out at one. Corbin goes for another pin but Drew kicks out. Drew goes to the top rope and he does a move on to Corbin. Drew does a spinebuster and Corbin kicks out. Corbin sends Drew into the corner and headfirst into the post. Drew kicks out at one. Drew goes for a claymore but Corbin does a deep-six. Drew kicks out and we see a Glasgow kiss. Claymore by Drew to Corbin and he wins.
Winner: Drew McIntyre 
While you're here at Wrestling News World, why not become one of our Premium Members for exclusive backstage news? You can even start off with a 30-day free trial!