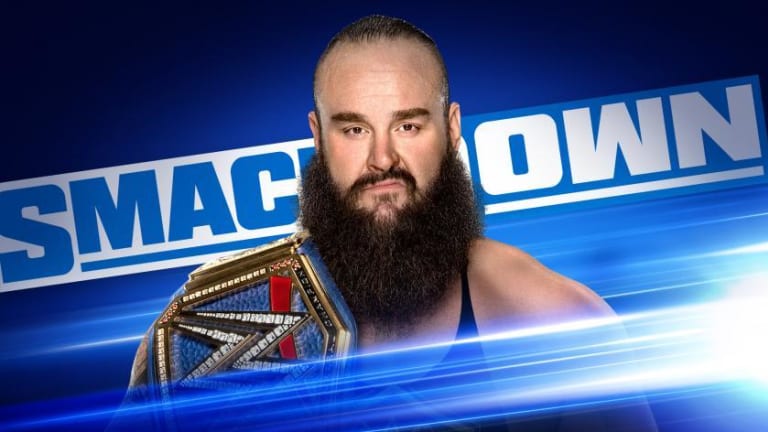 WWE Smackdown 04-10-20 Preview, Live Coverage, Results & Grades
Tonight's post-WrestleMania 36 edition of WWE SmackDown on FOX will air on tape from the empty WWE Performance Center in Orlando, FL.The show will feature the first appearance by new WWE Universal Champion Braun Strowman. There will also be a WrestleMania 36 rematch as new WWE Women's Tag Team Champions Nikki Cross and Alexa Bliss defend against Asuka and Kairi Sane.
Stay tuned for updates on tonight's show and be sure to join us for live coverage at 8pm ET.
Smackdown Live Coverage
Good evening folks, Chris here to guide you through the first Smackdown since WrestleMania 36. We are almost one week removed from The Showcase of The Immortals and there are a lot of questions to be answered. Will we get the answers tonight? Let's find out!
The new Universal Champion Braun Strowman is opening tonights show! Braun talks about how he kicked the door of opportunity right off its hinges at WrestleMania. Braun gets cut off by Shinsuke Nakamura, the man who he beat for the Intercontinental Championship not too long ago. 
Nakamura tells Braun he is here and he is knocking on the door. He wants the Universal Championship! Nak recites a Japanese proverb "the weak are the meat and the strong eat!". Braun promises that Nak will GET THESE HANDS tonight before Cesaro tries to jump the champ. Nakamura stuns Braun with a kick to the head before running to the hills.
Grade B
This accomplished a few things. We found out who Brauns first challenger will be, they set up tonights main event and reminded us that Nakamura actually isn't all that bad with a microphone in his hand at times. Good start to the show,
Alexa Bliss & Nikki Cross Vs. The Kabuki Warriors
Corey Graves is back on commentary!
The Kabuki Warriors take immediate control with hard hitting, fast paced offence right from the off. They quickly wear Alexa down and knock Nikki to the outside to remain on top. Asuka grabs a headset and starts screaming on commentary! Nikki is on the table and takes her down into the barrier! This has been great so far! Break for commercial.
Back from break and Asuka has regained control. She tags in Kairi who hits Nikki with two running strikes into the corner. Kairi hits a jumping elbow drop into Nikki's spine to stop her tagging Alexa in. Nikki hits a sweet bulldog and finally tags her partner in. Hot tag offence from Alexa, taking control with a nice dropkick but is cut off by Kairi hitting a perfect spear. Two count. Asuka and Kairi hit their own Doomsday Device before trying to lock Nikki into the Asuka Lock. Alexa breaks things up.
Alexa hits Kairi with a DDT for another two count. She takes out both of the warriors with a Twisted Bliss to the outside! Bless tries for another Twisted Bliss but Kairi rolls out. Unfortunately its straight into Nikki who hits her finisher for the win!
Winners - Alexa Bliss & Nikki Cross
Grade B
A good match, very similar to their contest at WrestleMania. Alexa doesn't get nearly enough credit, she was by far the MVP of this match. All 4 ladies looked great, the action was fast paced and hard hitting. Good stuff!
Time for Elias, up on the same podium that King Corbin threw him from. He has another song aimed at Corbin... this isn't over is it? Elias essentially enters himself into the Money In The Bank match. Time for a recap of the Otis and Mandy situation.
Grade C
One of Elias' better songs. Looks like he is finally moving on from the Corbin rivalry after his win at WrestleMania, and I would be quite happy to see Elias win the MITB match. The guy is talented and underutilized. The Otis and Mandy storyline has been the best thing in WWE since Kofi-Mania. Masterfully done.
Dolph is out now, with Sonya by his side. They're out talking smack at Cole and Graves. They're interrupted by Tucker who shows Dolph some pictures of Otis and Mandy together working out over the last few days, just like Dolph did a few weeks ago. This is brilliant! Tucker challenges Dolph to a match and it is happening right now!
Tucker Vs. Dolph Ziggler
Tucker starts things off in relentless fashion! He is beating the hell out of Dolph and picks up a near fall early on. Tucker slings Dolph into the ring steps, reminding him that he is doing this for Otis. Dolph responds with a thumb to the eye as Sonya distracts the ref. Dolph attempts a repeat of last week with a Zig Zag onto the steps but Tucker slams Dolph onto the announce table. Back in the ring and Tucker takes Dolph down with a high powerslam which results in another two count. Tucker hits a beautiful springboard crossbody for another near fall.
Dolph counters Tucker into a quick superkick and picks up the win.
Winner - Dolph Ziggler
Grade B-
This would've received a better rating but if it wasn't for the terrible finish. Tucker looked fantastic here, it baffles me why people are still sleeping on him. This match told a nice story, with Tucker out for revenge on Dolph, but the quick and weak finish soured the overall experience. Also, the way the match was set up was great, with Tucker giving Dolph a taste of his own medicine.
Dirt Sheet Time! Miz talks up their Tag Team Championships being retained at WrestleMania, with JoMo reminding us that it was in fact he who retained them all by himself. They run down all the highlights from Mania in typical hilarious fashion. Oh my... they're performing their new song Hey Hey, Ho Ho in the ring! This is brilliant stuff. The Uso's are here to cut the champs off, They're trying to drive a wedge between the champs by focusing in on Miz not being there to help his partner out. The New Day are here now, it's getting busy! Big E suggests that the men who couldn't compete at Mania should face each-other in a triple threat match for the championships. Next week it's Big E Vs. The Miz Vs. Jey Uso!
After the match we see a vignette for The Forgotten Sons. It seems they've been moved from NXT to Smackdown!
Grade B+
Miz and Morrison are fantastic every single week, long may they continue their championship reign. It's about time we saw some new teams getting opportunities for the belts though. Hopefully after next week that will happen. As for The Forgotten Sons, I know I said I wanted new teams involved but... really?
The Forgotten Sons Vs. Lucha House Party
Steve Cutler dominates Dorado before tagging in Blake. Metalik tags in and hits a big splash on Wesley Blake. Two count. Cutler hits a nice backbreaker on Dorado before the big men team up to hit a brutal double variation of the same move. Meaty strikes from Blake to Dorado, who managed to leap out of the way before hitting a beautiful springboard stunner. Metalik is pulling off all sorts of madness right now, moving too quick for me to even tell you what he is doing. Dorado gets absolutely launched to the outside.
Blake cuts off another springboard with a meaty clothesline, the Sons hit their double finisher and pick up a fairly straightforward win. After the match we saw Carmella and Dana Brooke challenge Alexa and Nikki for their Tag Team Championships. The champs, or should I say Nikki, accept! 
Winners - The Forgotten Sons
Grade B
Actually surprisingly good and entertaining. The Lucha House Party got in much more offence than expected, which was nice to see. What could've been a very simple squash match actually ended up being quite a fun sprint. Interesting challengers for the Women's Tag Team Championships... would be nice to see them gain some momentum rather than being handed a match straight away.
Smackdown Women's Champion Bayley and Sasha Banks are in the ring. Bayley talks up her WrestleMania victory. The ladies are talking up their friendship and invincibility... Tamina is here! She makes the good point that she didn't lose at WrestleMania and lays down the challenge to Bayley for her championship. If she wants that match though she will have to go through Sasha next week., as Bayley forces her best friend to do her dirty work.
Grade B-
This was actually pretty good. Bayley and Sasha were great and clearly had a lot of fun. I enjoyed Sasha telling Bayley to hold her back. Tamina seems an odd choice, but I believe it's just to set up Bayley Vs. Sasha.
Sheamus Vs. Cal Bloom
Sheamus hits Bloom with 10 Beats on the apron. Brogue Kick. 1, 2, 3.
Winner - Sheamus
Grade F
What is a Cal Bloom? More to the point, I am sick to death of this. A squash match can do wonders for a superstar if used properly. But 3 months of squash matches just isn't right. Sheamus is one of the most decorated superstars of all time. This is not how he should be treated.
WWE are going to be airing vignettes over the next few weeks, chronicling the life and career of Jeff Hardy. The first video shows the early stages of his WWE career and also where his love of wrestling originated from.
Could the charismatic enigma be retiring soon? It'll be a sad day when he does, but also definitely the right move. Jeff remains my favourite superstar of all time and has been part of some of WWE's most iconic moments. Let's see where this goes over the coming weeks.
Next week we are getting Daniel Bryan Vs. Cesaro in a Money In The Bank qualifying match, Dana Brooke Vs, Naomi in another qualifying match and also Sonya DeVille is hoping to reconcile with former best friend Mandy Rose. Looks like a great show!
Braun Strowman Vs. Shinsuke Nakamura
Cagey start from both men, with Nakamura hitting a few passing kicks. but Strowman answers by nearly caving in Nakamuras chest with a huge kick. Bit of a scrap outside before we head to commercial. Nakamura hits a kick to the face after Cesaro uppercuts Strowman from behind. Two count.
Braun turns Nakamura inside out with a clothesline shortly after crushing him in the corner. Full speed running blocks on the outside to both Nakamura and Cesaro, but Nakamura quickly hits another kick to the face. Braun recovers and hits a running powerslam to pick up a routine victory.
Winner - Braun Strowman
Grade - D
The two men didn't really gel here. Nakamura without Sami backing him up and talking smack just isn't right. I hope this isn't going to Brauns entire run, but I'm pretty sure it will be.
Firefly FunHouse time! Bray is here congratulating Strowman on his championship win at WrestleMania. The voices are talking to Bray, reminding him of their time together as part of The Wyatt Family. Bray is upset that Braun turned his back on him after giving him his chance in WWE. Brays friends are trying to convince him that he can't hope to beat Strowman. Bray asks Braun to apologise, to which he refuses. Bray wants his championship back and makes it very clear that as the man who brought Braun into this world... he will have to be the one who takes him out. Strowman makes a big statement, telling Bray that he is ready to Let Him In whenever he wants...
Grade A
Superb. Just superb. It was coming from a mile off after Bray succesfully beat Cena at Wrestlemania but it didn't stop this segment being great. From the pairs history, to the puppets doubting their master... this can only be fantastic.
That's all folks! Thanks for joining me and i hope you enjoyed the show!