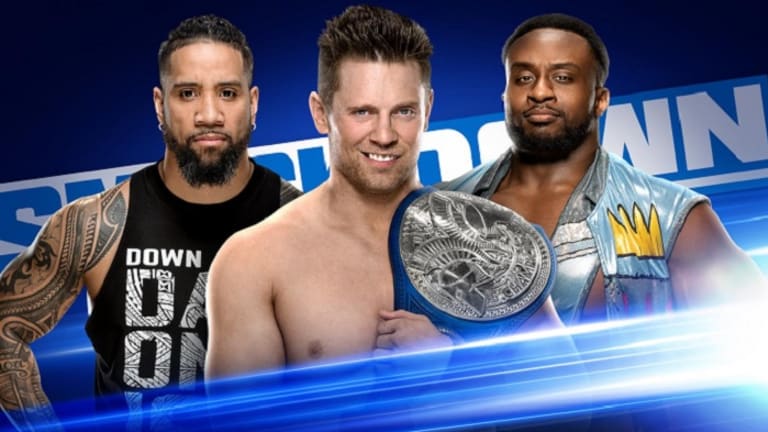 WWE Smackdown 04-17-20 Live Coverage, Results, Reaction & Grades
Tonight's WWE SmackDown on FOX will be back to it's usual live format, as it comes to us from the closed-set of the WWE Performance Center in Orlando, Florida.
The first blue brand Money In the Bank qualifying matches will take place tonight with Cesaro vs. Daniel Bryan and Naomi vs. Dana Brooke.
SmackDown will also see The Miz defend the SmackDown Tag Team Championships in a Triple Threat against Big E and Jey Uso, following on from their partners amazing showdown at WrestleMania 36. Sasha Banks vs. Tamina has also been announced and if Tamina wins, she earns a shot against SmackDown Women's Champion Bayley.
There will also be a segment with former best friends Mandy Rose and Sonya Deville, as Sonya tries to reconcile after betraying her buddy.
Stay tuned for updates on tonight's show and be sure to join us for live coverage at 8pm ET!
Smackdown Live Coverage Starts Now!
Good evening folks, Chris here once again to guide you through the very best that the blue brand has to offer... it's Smackdown time! Another jam packed show tonight, let's get to it! Are you ready for a good time? I am!
Tonights show kicks off with Womens tag Team Champions Alexa Bliss and Nikki Cross hosting a very different A Moment Of Bliss. Braun Strowman - the recently crowned Universal Champion - will be their guest tonight. All 3 in the ring are congratulating eachother on their big recent wins before turning their attention to Bray Wyatt and his comments from last week. Braun insists that nobody knows Bray like he does, denying that Bray was the one to create The Monster Amongst Men. Braun welcomes any challenge from Bray or The Fiend before spotting a gift wrapped up in the corner of the ring and assumes it is from his good friend Alexa.
Upon opening the box, Braun finds his old sheep mask from his days with Bray as part of the Wyatt Family. Brays eerie laughter fills the arena before an image of Braun in the mask closes the segment.
Grade - B
Braun is growing more and more confident with a mic in his hands, which is nice to see finally. This segment did everything it needed to do, and it achieved it all without Bray even appearing. Brays intentions were made very clear once again through the use of just a mask and an image. Great stuff.
Sasha Banks Vs. Tamina
Bayley joins the announcer for this match, supporting her best friend Sasha. Sasha wants no part of Tamina but tries to get the Samoan on side first, by offering her a Sasha Banks t shirt! Tamina ain't biting, and takes Sasha down with brute force before throwing her to the outside. First commercial break of the night.
As we come back from the break, Tamina is still on top before Sasha finally catches a break and uses her speed to ground her much stronger opponent. After a period of dominance from Sasha, Tamina manages to counter a dive from The Boss into an awkward Uranage. Bayley distracts Tamina, Sasha takes advantage using the ring post. Lacey Evans has had enough and charges to ringside to take out Bayley! Tamina with a superkick and she picks up the win!
Winner - Tamina
Grade - C
A pretty poor match, truth be told, but it served its purpose and advanced the feud. Tamina looked like enough of a threat here to be a believable challenger to the throne. Tamina vs Bayley is certainly an unlikely championship match but it's the one we've got!
Sheamus Vs. Denzel Dejournnet
Couple punches. Couple kicks. Brogue Kick. Done.
Winner - Sheamus
Grade - F
Sheamus can't be happy with this surely? Another under 30 second match. Pointless. Pathetic. Wasteful. Looks like we will be getting Sheamus vs Jeff Hardy soon at least. I hope that makes up for the last few months of wasteful booking.
Naomi Vs. Dana Brooke
The first MITB qulalifying match of the night. Slow start to the match with a whole bunch of roll ups. Dana uses her strength to overpower Naomi for a short time before Naomi hits a springboard knee to Dana's face. 2 count. Dana hits a nice powerbomb for another near fall. Rear View from Naomi for yet another near fall. The 500th roll up of the match gets Dana the surprise win.
Winner - Dana Brooke
Grade - D
Awful match from start to finish. The ladies didn't gel together at all and the first 5 minutes were extremely sloppy. Interesting decision for Dana to go over the much more talented naomi.
Sonya Deville makes her way to the ring and grabs a mic. She is pleading to Mandy Rose, desperately wanting her former friend to hear her out.Sonya talks about their past in an emotional please before Mandy finally comes out to hear it for herself. A distraught Sonya finally shows her true intentions and tells Mandy how selfish she has always been. A lot of this comes across as jealousy, with Sonya blaming Mandy for how little attention she has received. She admits that she did it all for their friendship as Mandy was forgetting all about her in favour of Otis. Sonya is spitting absolute venom here, ripping Mandy apart for being fake, bottled blonde and talentless. Brutal stuff from Sonya!
Dolph is out here begging Mandy to admit her feelings for him. Sonya lays out her former best friend before Otis comes out to save his beau. Mandy and Otis turn the tables, setting up a likely mixed tag match.
Grade - A
This was outstanding. Passionate, believable, funny and advanced the storyline even further. Sonya was brilliant the entire way. Awesome stuff. The best storyline in WWE since KofiMania by far. The eventual mixed tag match should be great, but should also be the end of the program. 
Cesaro Vs. Daniel Bryan
Quick and physical start to the match here. Bryan flips Cesaro to the outside of the ring. We see a short vignette of the hooded figure that revealed the truth behind Many and Otis, before heading for a commercial break. As we return to the action, Cesaro has taken control using his famous unmatched strength. Bryan turns it around and gets Cesaro into a brutal arm bar. Lots of back and forth from both men, both picking up near falls along the way.
The action spills to the outside and Cesaro hits a full speed ahead uppercut. Break for another commercial. Twice in 3 minutes. Crazy strength on show from Cesaro as we return. He rolls out of a headlock into two big slams, before applying a crossface to Bryan. Turning things around, Bryan makes Cesaro submit to his own crossface. Bryan qualifies for the MITB match!
Winner - Daniel Bryan
Grade - A
fantastic match. Wrestling at it's absolute finest. Two of the best in the world right now putting on a technical clinic.
Backstage, King Corbin lays waste to Elias. This goes on for about 10 minutes. 
Grade - F
GET OUT OF HERE WITH THIS. Corbin does NOT need another 4/5 month long feud that nobody cares about.
The Miz (c) Vs. Big E Vs Jey Use - Triple Threat WWE Tag Team Championship Match
Big E takes it straight to his opponents, throwing them to the outside and then rips apart the commentary table. He takes a superkick from Jey, before joining forces with Miz to put E through the table! Break for commercial. 
Back from the break and Jey goes on a high flying spree, taking out both opponents with tope suicida's before E counters his next assault into a Uranage. Jey hits both men with superkicks but can only get a two count. Skull Crushing Finale from Miz to Jey but he can only get another near fall. Miz locks in the Figure Four Leglock but E breaks things up with some frankly absurd strength, hitting the Big Ending. E picks up the win! New Day are 8 time champions!
Winner - Big E
Grade - B
A good, fun, short sprint of a match with lots of hard hitting, fast paced action. I just don't agree with the result. I am as big a New Day fan as you will ever come across, but Miz & Morrison has been on absolute fire recently. A truly bizarre decision.
Another good episode of Smackdown tonight! Thanks for joining me, we will see you on Monday for the latest installment of RAW!