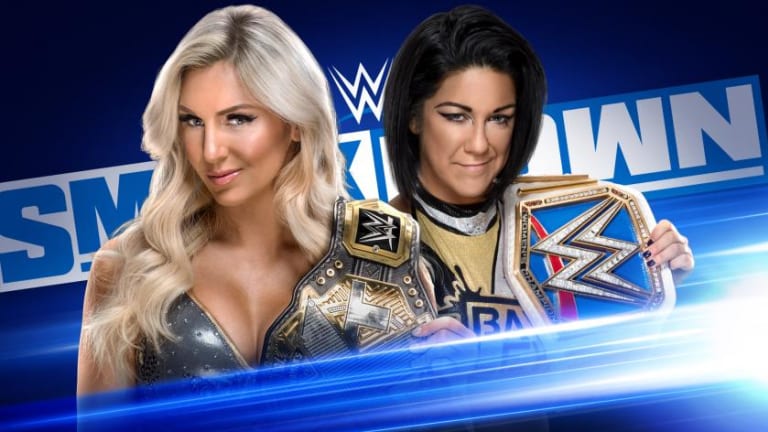 WWE Smackdown 05-22-20 Preview, Live Coverage, Results & Grades
Charlotte Flair and Bayley meet in a battle of champions, the Intercontinental Championship Tournament continues, and Otis & Mandy Rose team up against the persistent Dolph Ziggler & Sonya Deville.

Charlotte Flair vs. Bayley in Champion vs. Champion Match

The Queen certainly knows how make a grand entrance, and she knows how to stir the pot even better.

Charlotte Flair returned to SmackDown last week with a message for Bayley and, perhaps more importantly, Bayley's good friend Sasha Banks. Before the NXT Women's Champion was done, she left The Boss contemplating her future and set a Champion vs. Champion Match against the SmackDown Women's Champion.

Will The Queen seize the opportunity to assert her dominance? Or can Bayley & Sasha affirm their role model status?

Jeff Hardy vs. Sheamus - Intercontinental Championship Tournament

Jeff Hardy has won fans over for years with his extreme style and iconic matches, but don't dare count Sheamus as one of them. The two rivals will battle in the first round of the Intercontinental Championship Tournament on Friday Night SmackDown.

The Celtic Warrior has taken exception with the fanfare over The Charismatic Enigma's latest comeback. Hardy announced his presence in a big way with a Swanton Bomb on the Irish Superstar and a gritty win over Cesaro in WWE Money In The Bank Kickoff action.

The winner of the match will draw Daniel Bryan in the semifinals of the tournament.

Can Hardy put his comeback on the fast track, or is Sheamus destined for Grand Slam glory by getting a step closer to the coveted title?

AJ Styles vs. Shinsuke Nakamura - Intercontinental Championship Tournament

The announcement of AJ Styles in the Intercontinental Championship Tournament shook up the bracket, and Shinsuke Nakamura will have to deal with the fallout.

The Phenomenal One will face the former Intercontinental Champion in the First Round of the Intercontinental Championship Tournament. The title is currently being held in abeyance due to Sami Zayn being unable to compete. Now the in-ring poet Nakamura will look to defend his friend's honor and bring the championship into The Artist Collective.

The winner of the first-round showdown will face Elias in the semifinals.

Will Styles become a regular fixture on the blue brand, or can Nakamura discourage The Phenomenal One's journey onto SmackDown?

Otis & Mandy Rose vs. Sonya Deville & Dolph Ziggler

Otis won the battle for Mandy Rose's heart, but now the blissful couple will have to fight off Sonya Deville's quest to ruin The Golden Goddess' life.

Last week, Deville attacked Rose's "lack of skill" and painted a bleak picture for the future of the stunning Superstar. With Dolph Ziggler by her side, the former Fire & Desire member challenged Otis & Mandy to a Mixed Tag Team Match on SmackDown.

The Workin' Mans Superstar has been too much to handle for The Showoff in their recent encounters, but Deville did earn a recent win over her former best friend. Will Otis & Mandy's love conquer all, or will payback be a dish best served by Deville & Ziggler?

Catch SmackDown at 8/7 C on FOX and make sure to join us at WNW for live coverage!
But wait there's more! WNW are excited to announce that WWE HOF'er Mick Foley and NXT's Undisputed Era are joining forces for a LIVE Zoom Q&A on May 28th! Tickets are only $17 through EventBrite and 100% of all proceeds will go towards the fantastic "Give Kids The World" initiative! Fans will have the opportunity to ask the team a question LIVE!

This truly is a once in a lifetime event and the best part is that it's all for a good cause! Join us and let's Give Kids The World!
Smackdown Live Coverage
Good evening folks! Time for another episode of Smackdown, and the blue brands finest are putting on a jam packed show tonight! With 4 matches already announced it promises to be fill of action and the usual drama that follows Smackdown on FOX. LET'S GET TO IT!
Kicking things off, it's The Miz & John Morrison with The Dirt Sheet! They're talking their trademark smack about Braun Strowman and Otis, specifically the way that their sudden partnership makes no sense considering the fact that Otis could cash in at any moment. They're introducing new Firefly Funhouse puppets that are better than Strowman! The big man is here to cut them off early and to have a bit of fun at their expense. Strowman challenges Miz to a match and it's happening right now!
Grade B+
A good and fun way to start the show off and it even resulted in an early match. Miz & Morrison were on fire here as usual with Morrison proving to be the MVP of the segment. Expect something to happen after the match between Braun and Bray Wyatt to further their ongoing feud.
Braun Strowman vs. The Miz
Winner: Braun Strowman
Grade C
Not much to say here. A pretty standard squash match but with a better opponent than you would usually find. Miz got a good amount of offence in here, more than expected, but this was still nothing special. The match did very little other than esetting up a surprise championship match at Backlash which will see Miz & Morrison take on Strowman in a handicap match.
AJ Styles vs. Shinsuke Nakamura
Big news before the match here as AJ Styles has been officially traded to Smackdown! Exactly what you'd expect here straight from the off with loads of hard hitting action from both men. Nakamura takes control as we head to commercial break. As we return AJ is back on top. Lot of back and forth before AJ almost gets the win courtesy of a lengthy Calf Crusher. Nakamura misses a Kinshasa, AJ with the Styles Clash for a near fall. AJ hits the Phenomenal Forearm tto pick up the win and progress in the tournament.
Winner: AJ Styles
Grade B+
Great match between two very familiar foes. AJ Styles moving over to Smackdown is huge news for the blue brand, and also tells you everything you need to know about when Roman Reigns will be returning.
Bayley vs. Charlotte
A faritly even start to the match, but it doesn't take long for The Queen to take charge by utilizing her superior strength. The fight spills to the outside, Charlotte grabs a headset and calls Sasha Banks out. Break for commercial. 
As is so often the case in wrestling matches, we come back from commercial and the person who was struggling is now on top. Bayley drives Charlotte into the ring post before taking control back in the ring. Charlotte manages to hit a sweet fall away slam which results in both women flat out on the mat. Charlotte hits a nasty neckbreaker before slamming Bayley's face into the turnbuckle. bayley picks up a cheapp win by holding the ropes after a roll up.
Winner: Bayley
Grade A
Another good match between two women who have always had great chemistry together. Bayley winning was the correct decision, Charlotte winning on a show that isn't even hers would have been an insult to Bayley. Hopefully we get more movement on the Sasha vs Bayley saga soon.
Otis & Mandy Rose vs. Dolph Ziggler & Sonya Deville
A fiery start to the match with Otis and Dolph going at it, but it doesn't take long to break down (does it ever?) and Otis is slammed into the ring steps by Dolph while mandy and Sonya fight in the ring. We break for commercial with Otis down in pain and as we return Sonya is on top of Mandy (naughty), taunting her and throwing her all over the ring.
Sonya picks up the win following a running knee to the back of Rose's neck. Post match Ziggler superkicks Otis while he is checking on Mandy.
Winners: Dolph & Sonya
Grade C+
Meh. Nothing special here and unfortunately it seems the saga will be going on a while longer. I love Otis and Mandy and their entire storyline but this is dragging on a bit now with very repetetive matches.
Jeff Hardy vs Sheamus
The final match in the first round of the Intercontinental Championship Tournament kicks off with Sheamus taking the early lead against Jeff. Break for commercial early in the match. The Celtic Warrior is still in control when we return, ragdolling Jeff around with ease. Jeff turns things around and goes for a Swanton Bomb but Sheamus gets the knees up to counter. Hardy counters the Brogue Kick ad scores the win from a quick roll-up.
Winner: Jeff Hardy
Grade B
Sheamus looked great here, but Jeff was always winning this one. A good match  which Sheamus led from the very start and dictated the pace of the battle. Jeff winning makes sense considering his recent return, though this rivalry is far from over.
Thanks for joining me!