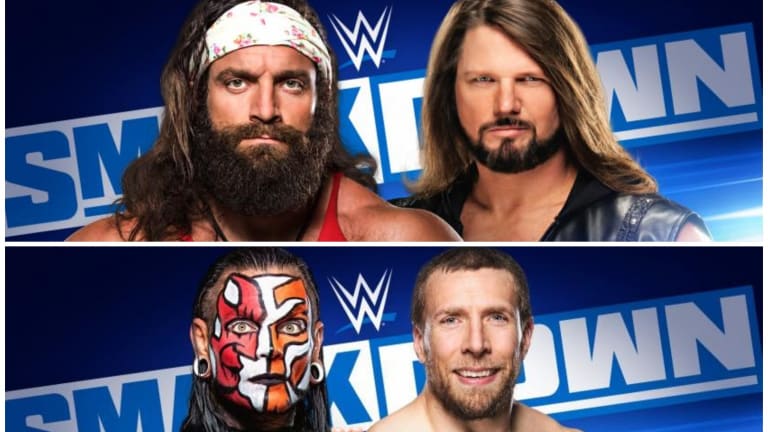 WWE Smackdown Live Coverage 05-29-20
It's Friday and that can only mean one thing... Smackdown on FOX! Not much has been announced for tonight's show, however there are two massive singles matches to determine the grand finale of the Intercontinental Championship. Hopefully WWE will announce more for tonight's episode throughout the evening but let's take a look at what has been announced so far...
Jeff Hardy Vs. Daniel Bryan - Intercontinental Championship Tournament Semi Final 
In the first round of the Intercontinental Championship Tournament, Jeff Hardy proved his unending perseverance, and Daniel Bryanexhibited his incredible technical prowess. Now the two former Intercontinental Champions will put their skills to the test with a finals opportunity on the line.
The Charismatic Enigma shocked The Celtic Warrior when he pulled out a victory, despite a confident Sheamus controlling long stretches of the match. Bryan was tested by his training partner, but the veteran Superstar outlasted Drew Gulak in a display of grappling ability.
Will Hardy keep his comeback moving forward? Or will Bryan's in-ring polish be too much to overcome?
Elias Vs. AJ Styles - Intercontinental Championship Tournament Semi Final
AJ Styles is officially back on the blue brand. Is a reign as Intercontinental Champion ahead of him? Elias is hoping to sing a different tune when he meets The Phenomenal One in the semifinals of the Intercontinental Championship Tournament.
After being traded to SmackDown for future considerations, Styles announced his presence with a thrilling win over Shinsuke Nakamura. Elias got the opportunity for payback when he knocked King Corbin out the bracket with a hard-fought victory in the opening round.
Can Elias claim another win, or is the tournament destined for a "Too Sweet" outcome?
Catch SmackDown at 8/7 C on FOX to see who will come out on top in these two blockbuster matches!
WWE Smackdown Live Coverage
Let's get to it folks!
Before we head to the arena, Renee Young is outside to bring us the breaking news that Elias has been taken out by a car. The rental car seems to belong to Jeff Hardy but he is soon found worse for wear and is carried away by policemen. It seems on the surface of it that Jeff has been arrested as a suspect in the apparent hit and run! A wild start to the show!
We head inside finally and half of the locker took is squabbling over how the Intercontinental Championship Tournament should be handled. Eventually the fighting stops and a Battle Royal is announced! Its up next!
Grade A+
AMAZING - I don't know what I just watched but I am SHOOK, HOOKED and EXCITED! Absolutely crazy start to the show and it was filmed incredibly well! Not only did we see chaos outside but there was more inside and we have a battle royal up next!
Battle Royal
An absolutely chaotic start to the match here! Lots of Performance Centre athletes in attendance tonight as opposed to the NXT talent from this week's RAW.
King Corbin has been the MVP here, eliminating 4 opponents fairly early including Gulak, Dorado and Ziggler before eating an Uso Superkick and he's outta there!
We are down to the final 5 of Nakamura, Shorty G, Sheamus, Jey Uso and Cesaro. Shorty eliminates Cesaro! Then he eliminates Nakamura but Cesaro runs in to launch him over the top rope! Down to the final two of Sheamus and Jey Uso. Brogue Kick on the apron and Sheamus wins!
Winner: Sheamus
Grade B-
I mean this was about as good as any Battle Royal ever is. Chaos for a long time, eliminations that shouldn't have counted, lots of close calls.... standard stuff really. Sheamus will face Bryan later on tonight to determine AJ Styles' opponent in the final. Should be a great match but the real story is still what happened before the match!
Lacey Evans Vs. Sonya Deville
A quick backstage segment before the match showed Lacey taking down Sonya before heading out to the ring. A recap of their recent Twitter feud explains how this match came to be. A bit of back and forth results in the fight spilling to the outside before a double count out results in a disappointing, quick draw.
Winner: Nobody
Grade C
This had so much promise but then delivered so little. I'd like to see these two go at in an actual match and show what they're really capable of. Sonya Deville has been on absolute fire recently and can do big things in the womens division, so hopefully normal service will be resumed soon.
A Moment Of Bliss Featuring The New Day
The two teams are out here to talk about their potential future challengers for the belts. Before they get down to brass tacks they exchange ridiculous gifts, starting with Nikki giving her homemade Scottish pancakes to Kofi. New Day respond by gifting some loose coffee beans, cold water and a huge stirring... thing. Yummy! New Day move on and cite The Forgotten Sons as a possible threat but before Bliss Cross can respond they're cut off by Smackdown Womens Champion Bayley and Sasha Banks.
The heels talk their usual brand of smack before Alexa lays down a challenge to Sasha for a match... right now! 
Alexa Bliss Vs. Sasha Banks
Early on in the match and Sasha is in complete control apart from bursts of energy from Alexa occasionally. Nikki on commentary is once again phenomenally good fun! Standard back and forth between the two who aren't really clicking despite their history together. A fracas starts at ringside, with Nikki accidentally knocking Bliss off the top rope and Sasha capitalises to pick up the roll up win.
Winner: Sasha Banks
Grade C
Not much to highlight really. It says a lot when the real action was found on commentary. By no means was this a bad match, but it was far from a classic. Once again it hinted towards cracks in the heels friendship, but didn't deliver.
Cesaro Vs. Shorty G
An impromptu match brought about by Shorty G's unfortunate and unfair elimination in tonight's Battle Royal. G starts the match off using his trademark mix of both speed and strength to take Cesaro by surprise. It's not long before the bigger and stronger Cesaro takes control.
Both men trace near falls up during a nice sequence of roll ups, before Shorty G gets the upset victory!
Winner: Shorty G
Grade C+
Similar to the previous matches this had the potential to be better than it turned out purely because of the limited time the two men were given. Shorty G picking up the win was certainly nice to see, though it would've been nice to see him obtain it through a more competitive and legitimate match.
Well that was quite the interval! A hilarious Mandy and Otis segment followed by the official announcement of Matt Riddle joining Smackdown! BROOO! A massive signing for the blue brand, Riddle is destined for big things.
Daniel Bryan Vs. Sheamus - Intercontinental Championship Tournament Semi Final
These two men have a huge amount of history together and meet here for the chance to face AJ Styles in next weeks final. A fiery and fast start to the match with both men going at each other, delivering the big hits and taking each other to the limit.
Sheamus has taken control as we come back from the commercial break, hitting the Irish Curse and his patented Cloverleaf submission. Bryan battles his way back in, as he so often does, and hits a missile dropkick.
Jeff Hardy is back! He distracts Sheamus and Bryan picks up the win, going on to face AJ in the final! Jeff beats down Sheamus to close out the show.
Winner: Daniel Bryan 
Grade B
Following the theme of the night this was another good match that could've been great if given more time. The real story here is what the hell is going on with Jeff Hardy. Bryan was the right winner.