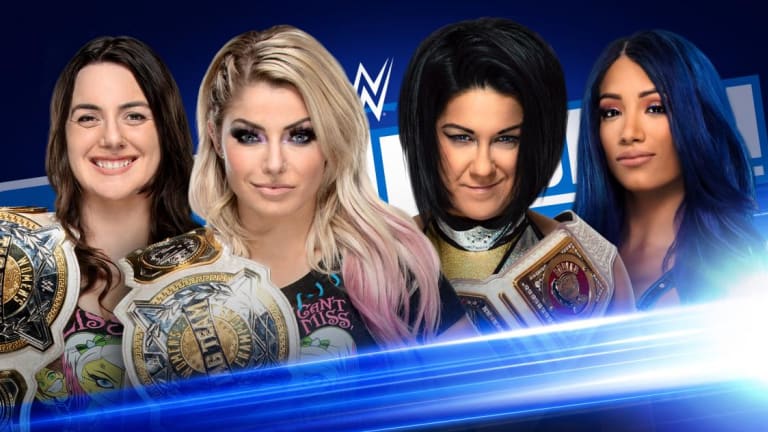 WWE SmackDown Live Coverage 06/05/20
Tonight's WWE SmackDown on FOX will take place from the closed-set Performance Center as the build to WWE Backlash continues.
Only one match has been announced so far for tonight's show as Sasha Banks and SmackDown Women's Champion Bayley will challenge Alexa Bliss & Nikki Cross for their WWE Women's Tag Team Titles. There will also be segments involving AJ Styles and Daniel Bryan, Jeff Hardy, plus WWE Universal Champion Braun Strowman and The Miz & John Morrison.
WWE.com is focusing on the following for tonight's show:
WWE Women's Tag Team Champions Alexa Bliss and Nikki Cross defend against Sasha Banks and SmackDown Women's Champion Bayley
The Miz and John Morrison will have a special warning for WWE Universal Champion Braun Strowman ahead of their Handicap Match at Backlash
Jeff Hardy will give his side of the hit & run incident
AJ Styles and Daniel Bryan will meet face-to-face to promote upcoming Intercontinental Title match
Stay tuned for updates on tonight's SmackDown and remember to join us for live coverage at 8pm ET!
Smackdown Live Coverage
Here we go! Good evening folks, let's settle down and check out the best that the blue brand has to offer!
We're kicking things off with a recap of last weeks insane start to the show. The Jeff Hardy/Elias incident will be addressed tonight by Jeff himself. The Charismatic Enigma is out to start the show...
Jeff is doing his best to cut a believable promo, but it isn't hitting home. Thankfully Sheamus comes out to cut him off, a brawl starts and Sheamus stands tall.
Grade C
Just not a good start to the show after such a hit start last week. Jeff isn't a good promo anymore, in fact I can't remember him ever being. Sheamus being confirmed as the driver so early into this story is majorly disappointing. Hopefully within a month this will be over, following a luke warm match with Jeff walking away victorious.
Otis Vs. King Corbin
A very random, previously unannounced match kicks off with Otis frustrating Corbin early on after already having stolen The Kings crown. A bit of back and forth takes us into commercial.
After growing tired of Otis' resistance, Corbin heads to the outside and causes a DQ finish by hitting Otis with a steel chair. After the bell, Otis takes out Corbin.
Winner - Otis
Grade C
A pointless match in the first place with an outcome that does nothing for either man. The fire that was lit under Otis and Mandy has well and truly been extinguished in recent weeks. This match was far too short, had a screwy ending which resulted in Corbin looking stupid and Otis looking like he doesn't know how to sell.
The Miz and John Morrison are outside of the arena in an unmarked van, promising to cause havoc and ruin Braun Strowmans night. They've messed with Brauns drink and he makes a mess backstage. This has been truly awful so far.
Shorty G is backstage talking to Kayla Braxton begin getting cut off by Mojo Rawley who has told two HILARIOUS (not) short jokes. Mojo, Nakamura and Cesaro beat down Shorty before New Day make the save. I smell a 6 man tag match coming...
Lacey Evan's Vs. Sonya Deville
Another unannounced match and a direct rematch from last week. The match starts as we come back from commercial and Sonya is in control. 
Sonya's great recent heel work is on show again tonight, trash talking her opponent while delivering hard hitting offence. A bizarre moment occurs when Sonya rolls into the referee, who goes down hurt and has to be replaced. Return from commercial and Sonya has taken advantage of the situation.
After the ladies trade blows for a while, taking it in turns to control the contest, Mandy appears on the big screen to distract Sonya. Lacey takes the advantage, hits a Womans Right for the win.
Winner - Lacey Evans
Grade B
A decent contest that went on for just the right time. Both women looked good, Lacey picks up some momentum and the Mandy/Sonya feud continues. Good stuff all round.
Backstage Braun Strowman is talking to Kayla Braxton. Miz and Morrison have set up a grunge trap to hit the Universal Champion but it accidentally gets Kayla! She isn't happy!
Renee Young is hosting Daniel Bryan and AJ Styles in the ring ahead of their upcoming Intercontinental Championship Tournament Final match next week.
AJ explains the reason he took a bye last week... because he is smart. Not a coward. He praises Bryan for having morals and being a proud fighter, but claims he is stupid for not taking the easy way out.
An impassioned DB tells AJ that he will be a fighting champion, defending the title every week and giving opportunities to anyone who deserves them. AJ says that Drew Gulak didn't earn the opportunity to team with Bryan and challenges him to a match right now!
Grade - A
Great stuff from two of the absolute best that the business has ever seen. Their match next week will be something very special, as will tonight's impromptu match. Thus segment will have got people even more excited than they already were. The Strowman segment was fun if uninspiring.
AJ Styles Vs. Drew Gulak
The match starts off hot with both guys going right after each other and trading blows. Styles quickly turns the tide and takes control but Gulak is putting up a spirited fight.
With Bryan cheering him on, Gulak manages to get the upper hand using his speed and grit but every time the plucky brawler finds a way back into the contest, AJ brings him right back down to earth.
Gulak picks up a shock victory with a quick roll up!
Winner - Drew Gulak
Grade B+
Great match, great decision and it fuels the fire for next week. The tournament final is going to be incredible and I can't wait. Gulak is a star and I'm thrilled the company brought him back.
The New Day & Shorty G vs. Shinsuke Nakamura, Cesaro & Mojo Rawley
Yes, you did read that right. Mojo Rawley is a part of the co-main event of tonight's show.
Winners - The New Day & Shorty G
Grade C
Standard six man tag team match. Nothing special, every guy got his offence in and looked fairly good. Didn't do much for anyone involved but it got them all TV time. Still... Mojo? Really?
Alexa Bliss & Nikki Cross (C) Vs. Sasha Banks & Bayley - WWE Womens Tag Team Championships Match
Winners - Sasha Banks & Bayley
Grade B
Decent match. Correct decision. It'll only last one week, they'll drop the titles at Backlash and it leads to Bayley vs Sasha. Simple.