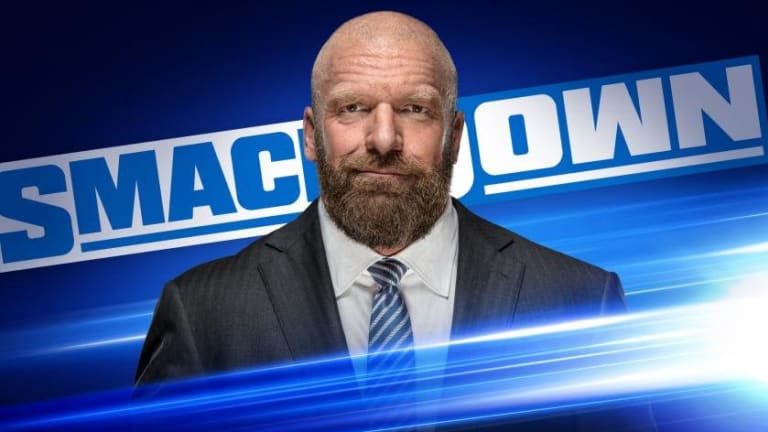 WWE Smackdown Preview 04-24-20, Live Coverage, Results & Grades
Tonight's WWE SmackDown on FOX will air live from the WWE Performance Center in Orlando, FL.
Tonight's show will feature a deep dive on the history between Bray Wyatt and WWE Universal Champion Braun Strowman, plus the beginning of the 25th Anniversary Celebration for Triple H. Money In the Bank qualifiers for tonight's show include Sasha Banks vs. Lacey Evans and King Baron Corbin vs. Drew Gulak. SmackDown will also see WWE Women's Tag Team Champions Alexa Bliss and Nikki Cross defend against Dana Brooke and Carmella.
Stay tuned for updates on tonight's SmackDown and be sure to join us for live coverage at 8pm ET.
Smackdown Live Coverage
Settle in folks, it's time for another night of Smackdown Live coverage! Chris here, as usual, bringing you all of the news, results and opinions as the blue brand hope to carry on their great build for Money In The Bank 2020. Now it's time... TIME TO PLAY THE GAME!
Kicking things off tonight … it's the newly crowned, 8 time Tag Team Champions... The New Day! Kofi has to cut Big E from making some very unusual remarks about the championship belts! They hype up their historic championship reigns, running down all of the historic tag teams that they have now overtaken. Lucha House Party are out here to congratulate New Day and lay down a challenge to the new champs, before being cut off by former champions The Miz & John Morrison. They're out here to make the very good point that New Day have never beaten them in a 2 v 2 match but before they can organise a match, The Forgotten Sons make their way down to the ring to make themselves known to the champs. Steve Cutler makes mention of his teams military service past, while also laying down a challenge for the championship belts. All 4 teams engage in a huge scuffle which ends with the Sons savaging all of their opponents. The Sons have officially put the division on notice!
Grade B-
While this was a wholly predictable opening segment, it was nice to see The Forgotten Sons presented as an actual threat. Considering their size and potential dominance over the division, they were used poorly during their NXT tenure. It makes a nice change to not focus on the same 2 or 3 teams all the time.
Drew Gulak Vs.  King Corbin - MITB Qualifier
Corbin takes early control of his opponent, while running his mouth and disrespecting Gulak because of his height. Gulak quickly rallies and takes the fight back to the King, dropkicking him right over the announce tables! Break for commercial. As we return to the action, Corbin takes Gulak out with a crushing clotheslines. He drops Gulak with a nasty spinning slam for a near fall. Gulak turns things around, dropping Corbin with a dropkick. He fights out of a chokeslam attempt and achieves another near fall from a roll up. The fight spills to the outside of the ring, with Gulak slamming Corbin into the ring steps.
Shinsuke Nakamura and Cesaro appear out of nowhere to take out Daniel Bryan at ringside! The distraction is enogh for Corbin to take advantage, hitting the End Of Days for the win. Post match, the heels team up on Gulak, with Corbin taking him out with his sceptre.
Winner - King Corbin
Grade C
A rushed match that followed the same tired old routine of big guy disrespecting a little guy just because he is taller than him. Gulak looked good here as usual but should've been given more time. Not sure why Nakamura and Cesaro had to get involved, as i thought we had moved past that story now. it seems Corbin will be aligned with two heels, once again, doing his bidding. He needed something new, but this shouldn't be it.
Sheamus Vs. Daniel Vidot
Vidot is in the ring. Sheamus is too. Sheamus does a brogue Kick, Done.
Grade F
Yep. That Happened.
The Miz & john Morrison Vs. Lucha House Party
Before the match, Sheamus appears behind Michael Cole, once again taking umbridge with the announce team hyping up Jeff Hardy's return and constantly talking about his road to redemption.
As for the match itself, Miz and Morrison take control of the match early on, keeping the Luchadors grounded and stopping them from using their signature high flying offence. It isn't long before they remedy that though and start hitting the former champs with some of their trademark highlight reel athleticism. Miz turns things round once again and keeps Lince Dorado grounded before tagging Morrison in. Running kick to the face picks up a near fall for Morrison.
Johnny Drip Drip gets hit with a springboard stunner but manages to tag in Miz as he stumbles to the outside. Gran Metalik takes to the skies on numerous occasions before Miz cuts him off with a big kick to the gut. Metalik rolls through after an attempt Skull Crushing Finale to pick up a shock win!
Winners - Lucha House Party
Grade B-
This was a fun sprint of a match, but neither team got enough time to show what they are capable of. It was funny to hear Corey Graves talking about Miz & Morrison being "money". They most certainly are, so it makes absolutely no sense that they lost the belts in the first place. Lucha House Party picking up the shock win here probably won't mean much going forward. If anything, it might lead to MC Miz and Johnny Drip Drip splitting up, which would be an absolute crime.
Sasha Banks Vs. Lacey Evans - MITB Qualifier
bayley with the immediate distraction, allowing Sasha to take out Lacey. Evans tries to take on both women at ringside but gets thrown into the ring post, injuring her right hand in the process. Lacey counters an attack from Sasha in the corner, taking control, but a small botch gives Sasha the opportunity to regain control. Evans manages to trip Sasha over, who hits the bottom turnbuckle face first. Lacey goes crazy, smashing Sasha's face into the ring post 5 times!
Up on the top rope, Lacey attempts a superplex but Sasha further injures the damaged right hand before hitting a powerbomb, transitioning into the Bank Statement. Lacey rolls Sasha over into a near fall before hitting the Womans Right. It should be a 3 count but Bayley puts Sasha's foot on the bottom rope. After the referee questions Bayley, she and Sasha get into an argument, with Sasha telling Bayley not to get involved. Lacey lands another beautiful Womans Right and picks up the win! Post match, Tamina takes out Bayley with a mean superkick.
Winner - Lacey Evans
Grade B+
The match itself was pretty good, if unspectacular. The progression of storylines is what earnt this match its rating. The tension between Bayley and Sasha was on show more than ever, with their first actual fall-out showing the cracks in their relationship. Lacey finally got a win over her long time rival and Tamina got the upper hand over the champion before her opportunity in 2 weeks time. Good stuff all round.
A vignette airs, shoowing the history between Bray Wyatt and Braun Strowman.
Grade A
Nobody does a video package quite like WWE. This package did it's job, which is especially hard when the two men actually have very little history together. Sure they were a part of the same faction, but they've not interacted in any form since being drafted to opposing shows. I imagine this match will have a dodgy ending, before they go on to have a match at Extreme Rules the following month where The Fiend will compete rather than Bray. The promos and this package have made me care about a match that I previously had no interest in.
Alexa Bliss & Nikki Cross (C) Vs. Dana Brooke & Carmella - Women's Tag Team Championship Match
Commercial break almost straight away here. Carmella and Bliss tag in after the break, with Carmella hitting a flurry of quick strikes and picking up a near fall. Brooke on the outside takes out Nikki, Bliss gets revenge for her teammate with a basement dropkick and Carmella gets another near fall. Lots of quick tags here with the champs tagging each-other in a couple of times for no reason at all. They hit their own modified version of the 3-D and pick up a quick title defence victory.
Winners - Alexa Bliss & Nikki Cross
Grade D
Utterly pointless and completely uninteresting. Far too quick, too many quick tags, not nearly enough action and just a meaningless waste of time. None of the women involved got anything out of this, especially as Dana Brooke has already qualified for MITB, meaning they were always unlikely to win tonight. I know times are hard right now and WWE don't have the entire roster available, but the time could've been used much more effectively.
Time to celebrate 25 years of Triple H!
One of the ringside workers takes Triple H's water bottle away from him, which was just brilliant! HBK is out here to join his long time best friend in the ring and he is obviously wearing his NXT cap! He says the immortal DX line... and if you're not down with that, he's got two words for ya.... SOCIAL DISTANCING! HBK is doing a great job of playing up to the empty arena, this has just been fantastic so far! HBK didn't get his own 25 year anniversary! Scandalous!
Now we see a video package showing some of DX's greatest moments and bloopers. Some funny unseen moments here. HBK talks up HHH's legendary resume before reminding him that his WrestleMania record isn't exactly great! Time for a video package showing those losses! Shawn highlights the fact that HHH used to be a lot of fun before "SHE" came along... speak of the devil!  Stephanie McMahon is here now via FaceTime and she is pissed at Shawn for talking smack about her! They move on and start talking about Trips time in Evolution and coincidentally Ric Flair is on FaceTime now! 
Back from commercial and Road Dogg is on FaceTime! Shawn mentions Katie Vick! Thankfully Vince McMahon is out now to wrap things up and congratulate his son-in-law. Vince isn't exactly doing a great job here, it's a little bit all over the place. He isn't making a huge amount of sense and it's sort of ruined the entire skit. The lights go out, cricket noises start to play and Shawn remarks "story of your career buddy".
Grade ?
My first ever ? grade, because I'm really not sure what just happened or how to even describe it, never-mind how to grade it. The segment started off so well. it was tongue in cheek, entertaining and funny. The Vince McMahon came out and it descended into... nothing. It was really weird. As if he had never spoken words to another human being before. I know he's old but he has spent half of his life on camera... but you wouldn't have known it from that segment. I find it very odd that Vince has been so quiet in recent times, but then appeared for this. He hasn't thanked the fans at any point, hasn't spoken about WrestleMania or how well it did, hasn't mentioned COVID19... but then this.... I just....