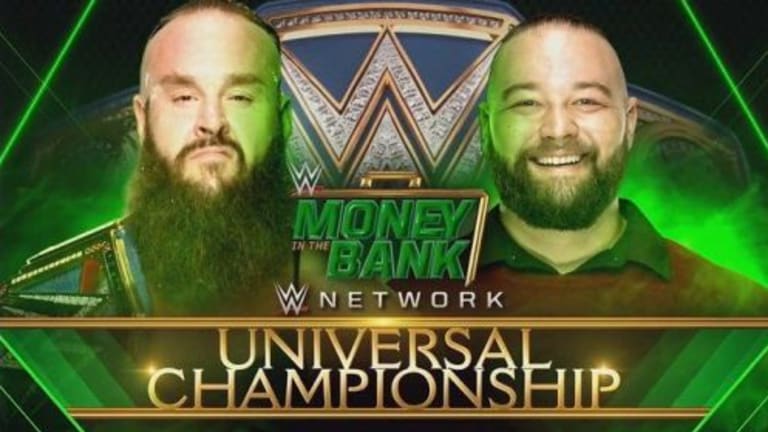 WWE Smackdown 05-08-20 Preview, Live Coverage, Results & Grades
Tonight's episode of Friday Night Smackdown on FOX is the go-home show for this Sunday's Money In The Bank pay-per-view.
It's looking like another jam packed show, with the following matches and segments already advertised:
Braun Strowman and Bray Wyatt come face to face ahead of their Universal Championship clash at MITB.
Daniel Bryan, Drew Gulak, and a mystery partner will take on the newly formed team of King Corbin, Shinsuke Nakamura, and Cesaro.
Best friends (for now) Bayley and Sasha Banks team up to try and gain the upper hand on their opponents for Sunday, Tamina and Lacey Evans.
Jeff Hardy makes his long awaited return from injury. Sheamus has made it very clear over the last few weeks that he isn't exactly happy with the way The Charismatic Enigma is having the red carpet rolled out for him.
Stay tuned for updates on tonight's SmackDown and be sure to join us for live coverage at 8pm ET
Smackdown Live Coverage
Good evening folks! Welcome to tonight's live coverage of the go-home episode of Smackdown On Fox, just days before Money In The Bank! It's a jam packed show tonight so let's get to it! Kicking things off immediately with in ring action from the women's division!
Mandy Rose vs. Sonya Deville
As soon as the bell rings, Mandy absolutely launches into Sonya and beats the living hell out of her! A new intensity from Rose here. Sonya eventually gets the upper hand and starts talking smack to her former best friend. She tears off Mandy's fake eyelashes! Mandy shows signs of life and takes the fight to the outside, slamming Sonya into the announce table, followed by the ring steps twice. Sonya grabs Mandy's tight for a quick roll-up victory.
Winner - Sonya Deville
Grade B
Fantastic intensity from both ladies here. Sonya is an absolute star in the making, hopefully WWE pull the trigger sooner rather than later. This was a fairly short match but the cheap finish will likely lead to another confrontation.
New Day & Lucha House Party vs. The Miz and John Morrison & The Forgotten Sons
Within a minute of the match starting, all hell breaks loose with all 8 men scrapping in the ring. Kofi over the top rope, Lince Dorado with a tope suicida, Gran Metalik with another! Break for commercial. Back from the break and it's Kofi in control over Blake, LHP hit a couple of sweet splashes on the big man before Kofi tags back in. Morrison is in now, hitting his patented amazing athletic offense. Cutler in for JoMo, who beats down on Kofi before tagging in his Forgotten cohort.
This match has been nothing but fast-paced, high octane action that has been a joy to watch. LHP hitting all of their big moves, chaos on the outside of the ring and lots of near-falls. Morrison lands on his feet from a Starship Pain, Miz runs in to hit the Face Crushing Finale for the win.
Winners - The Miz and John Morrison & The Forgotten Sons
Grade A
That. Was. OUTSTANDING. A PPV quality match and I'm confident these four teams will steal the show on Sunday. High intensity, incredible fast paced action, loads of near falls... fantastic stuff. One of the best T shows I've seen in a long time.
Jeff Hardy is back! He joins Renee Young in the ring to talk about his career and his road to redemption. Sheamus is backstage watching on a monitor, but eventually he decides he's had enough and makes his way to the ring.  Sheamus insists that the fans may love Jeff still, but that he is all washed up and they're fed up of it. All the suspensions, all the releases, all of the real life problems. Sheamus doesn't believe that Jeff is really back and will just make those same mistakes again, before heading to the ring to fight!
Jeff hits Sheamus with a sweet Whisper In The Wind, followed by a Twist of Fate and Swantom Bomb! 
Grade A
That's how you make your long awaited TV comeback! A great promo from both men and it was great to see Jeff perform all of his greatest hits without looking tired. Great stuff and we should get a great rivalry out of it.
Braun Strowman is in the ring calling out Bray Wyatt. Braun reiterates that he isn't scared and wants to see Bray face-to-face. FunHouse Bray is in the arena! Bray just wants an apology from Braun, saying he has always cared about The Monster Amongst Men and wants him to come home. Bray promises to show Braun how to be special just like he is, but needs to take the Universal Championship away from him first. Braun insists that Bray does not know him at all, but Bray tells him that their journey has only just begun. He presents Braun with his old Wyatt family mask. 
Grade B+
Braun was the best he has been on the mic for quite a while here, but still come way off matching Bray's brilliance. Wyatt carried this segment on his back and was as phenomenal as ever.
Sasha Banks & Bayley vs. Lacey Evans & Tamina
A clash between four of the women who will take center stage this Sunday at Money In The Bank. Tamina strikes immediately to try and get the upper hand before her championship match against bayley in just two days time. She takes early control over both heels before the fight spills to the outside, After a short commercial, we come back to Lacey dominating Sasha but The Boss quickly turns things around.
Bayley hits the Bayley To Belly on Tamina, followed by a top rope Elbow Drop but its not quite enough for the win! Lacey hits the Womans Right on Sasha, before Tamina hits Bayley with a Superkick and Samoan Drop for the unexpected win over the champ!
Winners - Tamina and Lacey Evans
Grade B
Really good match again. Tamina looked great and gained even more momentum heading into MITB. It's hard to see her winning the belt from Bayley, but the push has been refreshing to see.
King Corbin, Cesaro & Shinsuke Nakamura vs. Daniel Bryan, Drew Gulak & Otis
The action kicked off, thick and fast, with Corbin taking the early lead over Gulak. It doesn't take long for chaos to creep in and all 6 men are brawling at ringside.
King Corbin picked up the win over Drew Gulak to pick up the momentum heading into Sunday's MITB match.
Winners - King Corbin, Cesaro & Shinsuke Nakamura
Grade C
Nothing much to report here really. A short match designed to just get a bunch of the guys in Sunday's match some screentime. The post match brawl didn't really work without a crowd, although Otis breaking the rungs of the ladder was great.