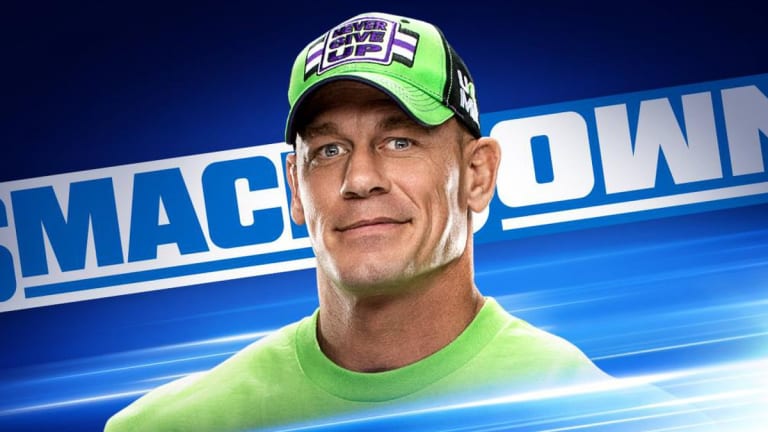 WWE Smackdown Preview, Live Coverage, Grades and Reaction 02-28-20
Welcome to WNW's preview for tonight's WWE Smackdown! Make sure you stick around for full live coverage when the show starts! So, what's in store tonight?
John Cena returns to SmackDown in his home state of Massachusetts. Also, the fallout from WWE Super ShowDown heads to the blue brand after Goldberg took home the Universal Title, and The Miz & John Morrison regained their championship form after 11 years.
John Cena returns to Smackdown.
John Cena will return to SmackDown tonight, as Team Blue continues down The Road to WrestleMania.
It was on SmackDown where The Cenation Leader made his dynamic debut nearly 18 years ago, when he channeled "Ruthless Aggression" to challenge WWE Hall of Famer Kurt Angle in his debut match. Since that fateful night, Cena went on to become WWE's standard-bearer, earning 16 World Championships and inspiring countless WWE fans to "Never Give Up."
An icon in the ring and the star of such blockbuster films as "Bumblebee," "Blockers" and the upcoming "F9: The Fast Saga," Cena will soon bring his signature "Hustle, Loyalty and Respect" back to SmackDown, as first reported by WWE Backstage on FS1.
Whatever this unparalleled Superstar has planned, you won't want to miss it. Catch Cena's return to SmackDown tonight on FOX.
New Universal Champion Goldberg will be Live on Smackdown tonight.
Goldberg is headed to Friday Night SmackDown, and he's bringing the Universal Title with him.
The WWE Hall of Famer sent shockwaves through the sports entertainment world when he defeated "The Fiend" Bray Wyatt at WWE Super ShowDown. Instead of who's next, the WWE Universe will be wondering what's next for Goldberg as he heads into his second reign as Universal Champion.
Will "The Fiend" Bray Wyatt reemerge to confront the first man to stop his twisted rampage? Or will Goldberg target a new member of Team Blue?
Tune in to Friday Night SmackDown on FOX at 8/7 C to catch the new Universal Champion's next move
LIVE COVERAGE OF WWE SMACKDOWN
Michael Cole welcomes us to Bioston, Massachusetts. We are kicking things off with the new Universal Champion Goldberg. Corey and Cole fill us in on what happened at Super Showdown, trying to convince us that the catastrophic main event was actually a good idea.
Goldberg taks a mic, greeted by a chorus of booing from the crowd. Roman Reigns enters to another mixed reaction. Staredown. Roman enters the ring. Staredown. Poses on the top rope for the crowd. Staredown. Roman takes the mic and simply says "I'm next". We are treated to a vignette of the GOAT, John Cena, starting off with his legendary debut against Kurt Angle..
Grade: B
Simple but effective segment. We all knew it was coming, this was always the plan for the championship match at Mania. By keeping the promos short but sweet, WWE can paper over the cracks in both men's mic work. Side note, i'm thrilled Cena is back tonight.
Back from commercial and Bayley is in the ring. Didn't even get a full TV entrance. For some reason we are getting a rematch from Super Showdown.
Naomi vs Bayley
Bayley grabs a micwhile ducking Naomi. Throws a few insults at the crowd while making the very good point that she shouldn't even have a rematch. She introduces Sasha Banks on her return from injury. Naomi is focused on Sasha making her ay down to the ring, Bayley takes advantage and ambushes her opponent. Naomi fights back and hits an early Rear View, Sasha hits the ring taking out Naomi and causing a disqualification.
Lacey Evans charges to the ring to help Naomi take out her long time rivals. Bit of a scrap between all 4 women before the match is turned into a tag team match. Break for commercial.
Back from the break and the bullies are on top. Classic heel work for a while, with Sasha and Bayley teaming up on Naomi in the corner, employing a few cheap shots. This goes on for quite some time. Lacey finally gets in on the action, goes on the offensive inside and outside of the ring. Naomi gets a surprise roll up victory over Bayley from a springboard pin.
Grade: C
Not a terrible match, but it didn't really hit the mark. The pin seemed to come out of nowhere and a bit too early. The action in the ring was fine, if uninspiring. Naomi picking up the win keeps her in title contention, just a shame the champion had to take the pin only one night after successfully retaining in a much better match.
Robert Roode vs Kofi Kingston
Uncle Bob makes his way to the ring first, accompanied by Uncle Ziggy. Fully expecting shenanigans here. Slow start to the match with lots of collar and elbow tie ups. Commentary paying a lot of attention to the Otis/Dolph/Mandy storyline, but not talking much about the match happening in front of them. Five minutes into the match and still with the rest holds. Roode makes his way to the outside of the ring and pulls a bit of an Eddie by kicking the ring steps and pretending that Big E attacked him. Referee sends Big E to the back.
Back from commercial and Roode has Kofi grounded with yet more rest-holds. Kofi fights his way back up, hitting a nice dropkick but Roode hangs him up on the top rope, a 2 count follows. Quick flash backstage where we see Mandy watching the match on a monitor. Kofi hits a springboard clothesline before pulling out his lightning quick offence, lots of big hits and a Boom Drop. Roode counters a Trouble In Paradise, attempts a Glorious DDT but Kofi launches off the top rope with a beautiful crossbody. Roode counters the S.O.S into a full nelson for another 2 count. Nice string of reversals there.
Roode hits a spinebuster, another 2 count. Another attempted Glorious DDT is countered into the S.O.S. Dolph gets Roode's leg on to the ropes to break the count, Roode rolls up Kofi for the win.
We see Otis and Tucker backstage. Tucky is trying to console Otis, telling him sometimes the guy doesn't get the girl. He tries to convince Otis to get back out there and forget about Mandy.
Grade B
Fun match that just took a while to get started properly. The Eddie throwback was beautiful, the action picked up big time towards the end, the string of reversals was fun and the Otis storyline gets to continues.
Another Cena vignette, this time of his legendary encounter with The Rock at WrestleMania 28. We now see Renee Young in the ring to officiate the Intercontinental Championship contract signing between Braun Strowman and Shinsuke Nakamura. 
Sami Zayn takes to the mic, selling the effects of last weeks match and the injury sustained by Nakamura at the hands of Strowman. Braun cuts him off after launching a chair out of the ring and down the ramp. He signs the contract saying he doesn't care what details lay within even if it means fighting all 3 of Sami, Cesaro and Nakamura. Sami uses Braun's words against him and it seems we have a 3 v 1 handicap match at Elimination Chamber. A fight erupts, ending with Sami hitting 2 Helluva kicks and Nak taking Strowman down a Kinshasa. All 3 men unite to send Strrowman through the table.
Grade A
Great segment. We got to see Sami being physcial for the first time in what seems like forever, and the heels looked dominant. If this segment was designed to make Strowman look like he can be beaten, t did it's job very well. It also means we finally have a non chamber match announced for next weeks PPV.
We get an announcement that Roman vs Goldberg has been made official for Wrestlemania.
I just... i don't have the linguistic skills within me to fully explain how much of a shambles this company is. Want a title match? Just ask for one. Simple. What's the point of the chamber now?
Daniel Bryan vs Curtis Axel
Sure. This match is happening. Another Bryan squash match, which seems to be all he does now. Axel got in more offence than expected. LaBelle Lock for the quick win for Bryan. Vignette of Cena equalling Flair's record 16th title victory.
Grade D
Pointless and another paint by numbers squash. Not too sure what the plan is for Bryan now. Hopefully it leads to Bryan and Gulak putting on a clinic.
New Smackdown tag team champions The Miz and John Morrison make their way to the ring. They hype up their title victory from last night, leading the crowd in a HEY HEY HO HO chant. They're cut off when an announcement is made for a 6 way tag team elimination chamber match next week, where Miz and Morrison will defend their new titles against The Uso's, Heavy Machinery, Lucha House Party, New Day and Roode & Ziggler. 
The Uso's vs Miz and Morrison
Back from commercial. Very slow start to the match, seemingly following the theme of tonight where every match needs to kick off with 5 minutes of rest holds. Tag, after tag, after tag after tag. Tope Suicida from one of the Uso's to Miz. Very little to report so far. Canadian Destroyer from the top rope followed by a splash. Uso's win.
Grade D
Twice in one night where the champion lost clean to the challenger. Not good at all. A dull match with a bizarre result but an impressive finish.
Thankfully its time for John Cena to return. He charges down to the ring, great reception for Big Match John. He panders to the crowd for a while, all of whom seem happy to see him. 
He tells us that no matter where his career has taken him, he will always be a WWE superstar at heart. He always listens to the WWE Universe and wants to give them exactly what they want, despite the company not always doing that. Talks up how much he cares about the future of the company. His announcement? That he shouldn't be at WrestleMania at all, because the future deserves the spot more than he does right now.
Hello Fiend. If you didn't see this coming then more fool you. The Fiend points at the WrestleMania sign. The crowd erupts into a YES chant. Cena tips his hat, as if to make the match official.
Grade A
Beautiful. Knew it was coming from a mile off, but still a super effective segment that leads to some potential retribution for The Fiend. The two men have history. Cena can put him over and fix the SSD debacle. This was the only way forward.