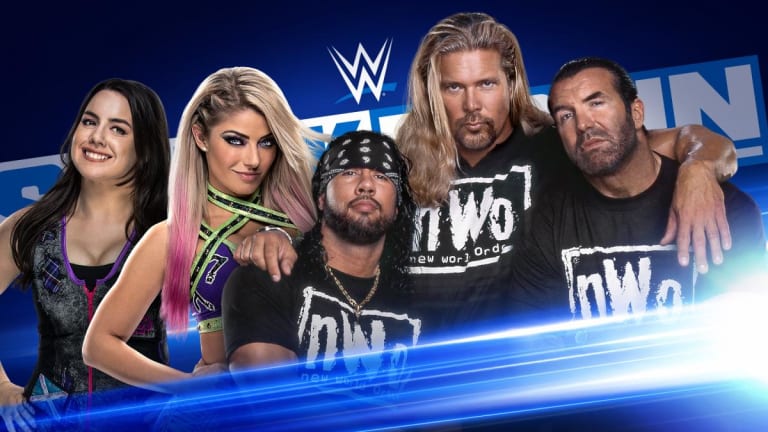 WWE Smackdown Preview & Live Coverage: Go Home Show For Elimination Chamber 2020
This is the final WWE show before the Elimination Chamber PPV and that is the final PPV until WrestleMania in Tampa, Fl. Before we look at the promoted card for tonight I'm going to look at the viewership numbers for Smackdown in 2020. The show saw an increase in viewers after putting the Universal Title on Goldberg and promoting John Cena's return to television. 

2020 Viewership:
1/3/20- 2,417,000 (.70)
1/10/20- 2,502,000 (.75)
1/17/20- 2,580,000 (.80)
1/24/20- 2,470,000 (.70)
1/31/20- 2,369,000 (.70)
2/7/20- 2,547,000 (.75)
2/14/20- 2,482,000 (.70)
2/21/20- 2,490,000 (.70)
2/28/20- 2,700,000 (.80)

Smackdown last week increased viewership to hits highest total of 2020 and continues to dominate the key demo on broadcast television. The show is generally the most watched show in the key (18-49) demographic each week however is generally ranks 3rd or 4th of the four major broadcast channels on Friday night. The show has stayed close to NBC and ABC programming each week this year with CBS programming continuing to own total viewership each week.
Now let's take a look at the promoted card for tonight's go-home Smackdown show. The show is being highlighted with a return of the NWO to Smackdown with Kevin Nash, Scott Hall and X-Pac being on "A Moment Of Bliss". The faction is being inducted into the Hall of Fame this year in Tampa, Fl. 
A tag match is the featured match for tonight's show, it's a gauntlet match to determine the final entrants into the Elimination Chamber match this Sunday. Also on the show is the return of the Firefly Fun House featuring Bray Wyatt, where he will speak his first words since losing his title and challenging Cena for WrestleMania. Finally the inaugural women's Tag Team Champions Sasha Banks and Bayley will take on the team of Naomi and Lacey Evans. 
What are your thoughts for the show tonight? Do you think the NWO will get physical tonight or be challenged by another trio or do you believe they are their just for a nostalgic promo? Who will win the tag team gauntlet match? Follow this article throughout the day for any updates and for live coverage during the show.
Smackdown Live Coverage with Chris Deez
Good evening everybody and welcome to WNW's live coverage of Smackdown! Just two nights to go until the Elimination Chamber PPV... will the go home episode of Smackdown get us hyped for the big show? Lets get to it !
Kicking things off with a recap of last weeks confrontation (of sorts) between John Cena and The Fiend. Great little video package, no-one comes close to WWE when it comes to these segments.
Michael Cole welcomes us to Buffalo, he and Corey Graves run down what's coming tonight including a new Firefly Funhouse episode and the amazing looking Gauntlet match. Alexa Bliss and Nikki Cross are opening the show with A Moment Of Bliss featuring special guests The nWo. Alexa lays down a challenge to The Kabuki Warriors for the Women's Tag Team Championships before introducing the nWo, Hulk Hogan however has not joined them tonight...
Alexa asks a few run of the mill questions, Nash makes a pretty fun remark regarding the Cattle Prod incident against Goldberg in WCW. Sami Zayn, Cesaro and Nakamura interrupt the proceedings. Sami makes the very good point that we need to move on from the past and focus on the present. Sami talks a wonderful bit of smack directed at X-Pac, Nash responds with the best insult ever "You look like Seth Rogen after 2 weeks of stomach flu".
Braun Strowman interrupts the trio, chasing Sami back into the ring with the nWo. He pulls Alexa over to use her as a human shield before scampering off. Strowman hits a Too Sweet to close out the segment.
Grade - A
Properly entertaining. Funny, good build for the Intercontinental Championship match on Sunday and a nice spotlight for the young stable alongside the legendary guests..
Lacey Evans & Naomi vs Bayley & Sasha Banks
Bayley and Sasha start this one off with a nice double team, keeping Evans in their corner and away from her partner. We go to a break, but when we return it seems Naomi was taken out so that the heels could stay on top of Lacey. Would've been nice to see that actually happen but...
.Naomi finally manages to tag in and goes on the assault with a nice bit of hot tag momentum, including a springboard  corkscrew plancha to the outside. Bayley just about saves Sasha from taking the pin from Naomi. Sasha capitalizes after Bayley stops Naomi from hitting a split legged moonsault, picking up a quick pinfall victory.
Grade - D
Winners - Bayley & Sasha
Weak match. Nobody involved looked particularly good and the match itself was very rushed, likely so that the gauntlet match can go as long as possible. This women's division desperately needs new life breathed into it. The backstage segment was the most interesting part, with Sasha spending an awful long time looking right at Bayley's championship...
Sheamus vs Apollo
I can't take this anymore, but here we go again. Apollo starts off with some quick offense, taking the fight to Sheamus. The Fella hits a Brogue Kick within about 1 minute and wins. Again.
Winner - Sheamus
Grade - F
So this was a thing that happened. Bored of it now. Sheamus is an absolute monster who shouldn't be booked like this.
Drake Maverick approaches Drew Gulak backstage, saying he wants to fight daniel Bryan. As Gulak critiques Bryan, the bearded one cuts him off and challenges him to a match this Sunday.
Holy bleep! TAKE MY MONEY, this match is going to be HOT FIRE FLAMES!
AJ Styles is announced as next weeks WWE Backstage special guest. Carmella makes her way to the ring with Dana Brooke to take on Sonya Deville and Mandy Rose. Dolph Ziggler comes out to join Fire & Desire at ringside.
Carmella & Dana Brooke vs Sonya Deville & Mandy Rose
Sonya keeps Carmella down for most of the short match. Dolph causes a distraction for Fire & Desire to pick up the win.
Winners - Fire & Desire
Grade - F
Another thing that happened. Sonya has so much untapped potential, but unfortunately this match was nothing more than filler..Terrible and pointless.
Firefly FunHouse time! Ramblin' Rabbit presents footage of John Cena burying Bray 6 years ago, asking if that is why Bray is so upset. Amazing! Bray insists that without that defeat to Cena, the FunHouse would never have been born, so he thanks him. Bray tells Cena that he also helped to birth The Fiend in the process and promises that he will gain retribution at WrestleMania because that... is the circle of life.
Grade - B
One of the weaker Firefly FunHouse episodes, but it did what it needed to. Expect a few more of these on the run up to Mania.
King Corbin is backstage being interviewed by Kayla. Elias interrupts his former cohort. Corbin informs him that he needs to watch himself or he may have to answer to his king. Now we see Otis try to apologise to Mandy, seemingly admitting to sending the text himself...
i am SO confused to what is happening. So many guys seem completely lost with only a few weeks until WrestleMania. This years build has been an absolute mess.
Tag Team Gauntlet Match
New Day and Heavy Machinery are the two teams to kick things off. Kofi and Tucker go at it with Kofi taking early control before both men tag in their much larger compatriots. Big E and Otis show off some good old fashioned big man offence, trading power moves and heavy blows. Otis and Tucky both hit long vertical suplexes and the fight spills to the outside.
Back from commercial, ogtis and Big E are still going at it back in the ring. E makes the tag to Kofi who hits his trademark quick offence and signature moves. Kofi hits a Boom Drop but see's a Trouble In Paradise countered. Tucky catches Kofi after he tries a springboard to the outside, slamming him down to the floor. Trash Compactor on Big E back in the ring and they're out of here! The New Day eliminated. Lucha House Party are next up. They hit some quick offence but are soon overpowered by the big men.
Otis, the most over man in the world right now, takes on the Luchas by himself and soaks up all of their hits before ploughing through them. We break for commercial and when we return things have slowed down a bit. Tucker and Otis take it in turns with rest holds and bear hugs. Dorado hits a springboard stunner on Otis before tagging in Metalik who hits some beautiful high flying moves on Tucker. The WWE Universe are chanting like crazy for Otis... they love him!
Otis tags back in and connects with his trademark Caterpillar to get the win. Lucha House Party eliminated. The Uso's are next to take on the gauntlet, this should be good! Back from the 459th commercial in this match, The Uso's are on top. Tucker is down for the pin, but rolls back over to pick up the win! The Uso's are eliminated. Current champions The Miz & John Morrison are in next to try and dispatch of Heavy Machinery who are on a roll.
The champs are keeping Tucker down as much as possible to stop him tagging to the game changer Otis. Miz pulls Otis off rhe apron to stop the potential tag before isolating Tucker in their corner. Morrison hits a beautiful corkscrew elbow drop but Otis breaks up the pin. Morrison pins Tucker, but Tucker rolls Morrison back over for another surprise victory! Miz & Morrison are eliminated! The champs beat the living hell out of Heavy Machinery at ringside in the hopes of handing the win to the next team in, Dolph Ziggler and Robert Roode.
Back from commercial, Otis is still down at ringside with Roode & Ziggler taking their time with Tucker back in the ring. Tucker is giving it his best shot, but keeps falling foul of the double team from the heels. Otis is back to his feet and the crowd go crazy! COME ON OTIS! The big man tags back in finally and goes full steam at Roode. He's hulking up and the crowd LOVE it! Ziggler gets in the ring as Otis is about to hit another Caterpillar, hits a superkick and picks up the win. Heavy Machinery are eliminated. Wow!
Winners - Ziggler & Roode
Grade - A
Fantastic match from start to finish. Heavy Machinery just got the ultimate babyface push, similar to Kofimania this time last year. The right team won though as it set's up even more must-see story on Sunday in the Chamber.
Thanks for joining me! What did you think of the show? Very poor for me, the only highlight was the main event. Let us know in the comments!