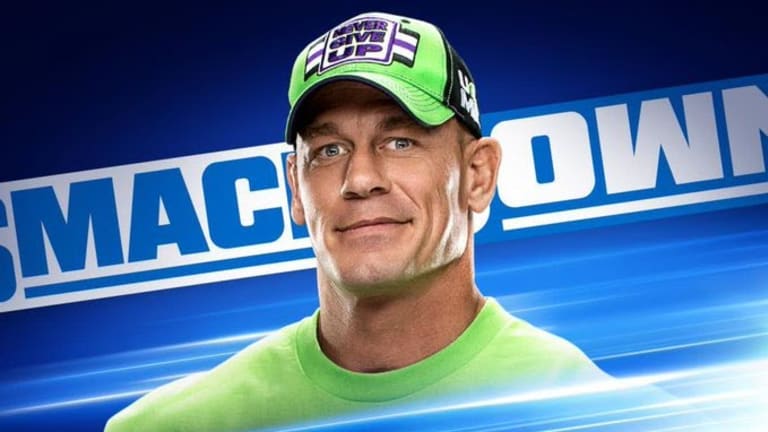 WWE Smackdown Preview, Live Coverage, Results & Grades
Tonight's WWE SmackDown on FOX will be the Wrestlemania 36 go-home show with all the final hype and announcements for the big events on Saturday and Sunday.
WWE have announced that John Cena will be on tonight's show to respond to Bray Wyatt's "Firefly Fun House Match" proposal for their Wrestlemania showdown. They have also announced that SmackDown Tag Team Champions The Miz and John Morrison will host The New Day and The Usos on MizTV.
WWE previously announced a face-off between Roman Reigns and WWE Universal Champion Bill Goldberg for tonight's show, but that has been removed from the official preview. It was believed that the segment would explain Reigns' replacement for the Universal Championship match this weekend.
Stay tuned for updates on tonight's taped shows and be sure to join us for live coverage at 8pm ET.
Smackdown Live Coverage
Good evening folks! It's time for the very final stop on what has been a very bumpy road to Wrestlemania 36! We have another jam packed episode of Smackdown ahead of us... lets go!
MizTV is kicking things off tonight! The Uso's are out before the hosts though, soon followed by The New Day. This will not sit well with the champs! Both teams are talking up their credentials and chances of winning the tag team championships this weekend. The champs are finally here to cut things off before a fight kicks off. The turtle neck tough guys are on top of the ladders set up on the stage, talking trash before a huge scrap breaks out between the three teams. The champs come out on top after taking out the competition with a well timed ladder attack.
Grade - B
Not the worst start to the show. All 6 men were great on the mic, as usual, and helped to intensify the rivalry heading into the championship atch this weekend. The attack could also lead to an explanation for why the match has to be altered after The Miz was ruled out in the last few days.
Naomi Vs. Lacey Evans Vs. Tamina
Sasha Banks and Bayley are joining Michael Cole on commentary. Cole wearing Lacey's hat is all I ever want to see, forever. Tamina is the target for Lacey and Naomi, but the powerhouse quickly turns things around with some hard hitting offence. Off for our first commercial break.
Back to the action and Tamina is still in control. Lacey manages to turn things around after a few strong shoulder tackles, but the faces decide to go at it on the outside of the ring. With the referees back turned Sasha takes Lacey out using the ring steps, before Naomi takes The Boss out with a beautiful kick. Tamina picks up the with a nice superkick after a distraction from Bayley. Post match Tamina takes out the boss and hug connection.
Winner - Tamina
Grade - C
A sloppy match overall. Naomi was as good as ever but Lacey is showing signs of now regressing after a period of large improvement last year. Tamina is just terrible. Her picking up the win tonight makes it almost certain that she will be the first eliminated at Wrestlemania. The highlight of this entire match was Cole in a nice hat.
A replay of Shawn Michaels vs Ric Flair at Wrestlemania 24. No coverage here! Check it out on the network, it was a great match.
Back from the recap and Cole gives us news on two big announcements for Wrestlemania. Elias vs King Corbin and Braun Strowman replacing Roman Reigns in his match against Goldberg. 
Otis and Tucker are backstage preparing for tonights match. Tucker tells Otis that Mandy was asking about him earlier in the night, just before Otis receives a text and runs off.
Literally no effort at all put into the Strowman announcement. Disappointing.
Tucker Vs. Dolph Ziggler
No Otis in sight, Tucky is all by himself. Cole hypes up the amateur wrestling credentials of both men. Tucker is going at Dolph with the heavy offence before Dolph uses his speed to turn things around. a picture perfect dropkick keeps tucker down for a 2 count. Tucker picks up some momentum hitting a beautiful jumping kick but Dolph dodges out of the way of a running tackle, sending Tucker into the ring post. Commercial break.
We come back to the action and Dolph is still in control. Tucker throws Dolph off using pure brute strength, taking the fight to the outside. Back in the ring and Tucker hits a nice side slam for a near fall. Dolph forces a DQ finish after hitting a Zig Zag on Tucker onto the steel steps. Post match, Dolph goes to crush Tucker with the steps before Mandy, Sonya and Otis come out to make the save. The glitches are finally revealed to show a hooded figure sitting at a computer screen, who proceeds to show exactly what happened regarding the text message.
THE TRUTH WILL BE HEARD - WE HAVE SEEN IT. We finally have the truth and it was Sonya all along. She sent the text to Otis that resulted in him being late for the date with Mandy and it was all set up between her and Dolph. FINALLY!
Winner - Tucker and the WWE Universe
Grade - A+++
So much to cover here. Not only was this a great match and a great showing for Tucker but we FINALLY got what we all wanted. The execution here was fantastic and everybody played their part to perfection. I'm eager to see who the hooded figure is. Otis will get his revenge very soon!
Daniel Bryan Vs. Shinsuke Nakamura
Gulak and Bryan together are still just amazing. Leapfrog in the ring? More of this please. The match starts off with some nice, fluid mat wrestling from both men and Bryan eventually takes full control. The fight spills out to the floor and Bryan hits a sweet jumping knee to Nakamura's face. Running dropkick to the corner, Bryan hoists Nakamura to the top rope but is dumped on his back and receives a flying kick to the face. Near fall for Nakamura. Off for another break.
Bryan is on a roll when we return. Time for the Yes Kicks! Nakamura reverses and hits some brutal knee strikes to Bryan's head.  After some back and forth hard hitting strikes, Bryan takes over with a few submission holds followed by sharp kicks to Nakamuras legs. Dueling arm-bars now as both men look to assert themselves in the final stretch of the match. Cesaro runs in to attack bryan and cause a DQ finish. The Swiss Cyborg takes out both Gulak and Bryan with his always impressive strength. The heels gang up on Bryan back in the ring where Cesaro hits The Neutralizer, Nakamura hits a Kinshasa and finally Sami hits a Helluva Kick.
Winner - Daniel Bryan
Grade - B
A technically sound if unspectacular match. The post match beatdown was predictable but helped to build the intensity before Wrestlemania. With enough time, Sami v Bryan could be a MOTN contender.
Big Match John is here to address the Firefly FunHouse challenge from bray Wyatt last week. Cena addresses the real life situation of COVID-19 affecting Wrestlemania and WWE programming, thanking the fans for their support. John has no idea what the match will entail and doesn't even think that Bray himself knows. He knows why Bray isn't disclosing any information... to promote fear, uncertainty, panic and eventual collapse. What happens next he asks... Cena assures us he will not panic and is not afraid. He will squash Bray and finish what he started 6 years ago at Wrestlemania 30. An extremely impassioned Cena rips apart Bray and everything he stands for, before accepting the challenge of Bray.
Ramblin' Rabbit is at ringside! So is Huskus The Pig, Mercy The Buzzard and Abigail The Witch! The Fiend is in the building and the lights go out in the arena. A staredown occurs before Bray appears behind Cena, asking cena to 'Let Him In'. Bray disappears, show over. 
Grade - A+++
cena is the absolute GOAT. I don't care how you feel about him, he is untouchable and he proved why in this segment. A passionate Cena cannot be matched when it comes to promo and this was further evidence of that. The staredown was fantastic, the surprise from Bray made me jump... perfect.
Thanks for joining me tonight everybody! See you at Wrestlemania!