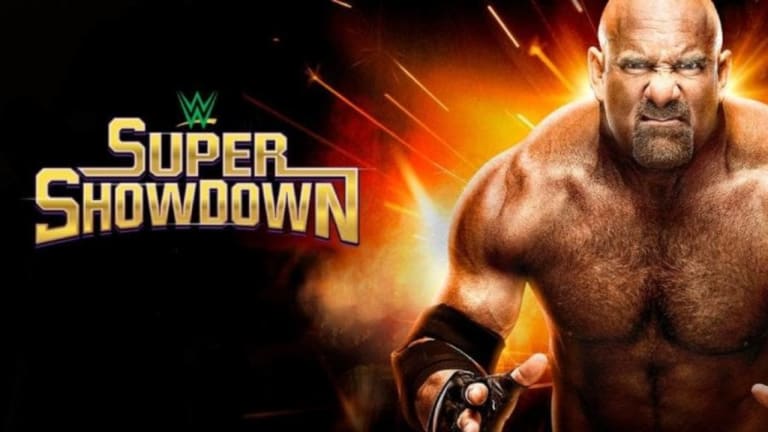 WWE Super Showdown Live Results and Coverage
We are firmly on the Road to WrestleMania 36, which takes place on Sunday, April 5 in Tampa, Florida, but before we arrive on the Grandest Stage of Them All, another stadium show is set to go down. WWE is returning to the Kingdom of Saudi Arabia to present the latest Super ShowDown event. The show takes place tonight, Thursday, Feb. 27 from International Arena at The Boulevard in Riyadh, Saudi Arabia. WWE Super ShowDown is scheduled to begin at noon ET and will stream live on the WWE Network.
We've got the quite the match card announced so far, Announced for the event are:
WWE Universal Championship - "The Fiend" Bray Wyatt (c) vs. Goldberg
WWE Championship - Brock Lesnar (c) vs. Ricochet
WWE Smackdown Tag Team Championships -The New Day (Kofi Kingston & Big E) (c) vs. The Miz & John Morrison
WWE RAW Tag Team Championships - Seth Rollins & Murphy (c) vs. The Street Profits
WWE Smackdown Women's Championship - Bayley (c) vs. Naomi
Steel Cage Match - Roman Reigns vs. King Corbin
6-Way Gauntlet Match for the Tuwaiq Trophy
AJ Styles vs. Andrade vs. Bobby Lashley vs. Rey Mysterio vs. Erick Rowan vs. R-Truth
Mansoor vs Dolph Ziggler
The Viking Raiders vs The OC
Angel Garza vs Humberto Carillo
Join us for live coverage and all of the talking points!
LIVE COVERAGE
KICKOFF SHOW - Viking Raiders vs The OC
Erik and Karl Anderson kick things off. Erik starts with the dominance to Anderson. tag made to Ivar who does damage. Erik tagged back in. Erik slams Ivar onto Anderson for a nearfall. Luke Gallows gets a tag off a distraction and the OC take control. Gallows gets a big boot for a 1 count . Luke gallows continues the damage with a big leg drop for a 2 count.After a tag from Anderson Erik fights back and tags in Ivar. Ivar cleans house with his athletic offense with cartwheels and rolls galore. After Ivar misses a brnci buster him and Andrsin tag in their partners Erik and Gallows exchange. tag back to Ivar. More back and forth between the teams.  The finish comes when Ivar goes for a moonsault on Anderson and he moves. Anderson makes the tag to Gallows and the OC hit the Magic Killer for the win.
WINNERS - The OC
Tuwaiq  Mountain Trophy Gauntlet Match R Truth vs Erick Rowan vs Aj Styles vs Rey Mysterio vs Bobby Lashley vs Andrade.
R- Truth is the first to enter the gauntlet. R truth is super over in Saudi Arabia. Bobbly Lashley is out next against R Truth. Lashley take control Early. Truth comes back with 10 punches in the corner before being knocked outside. Lashley punishes Truth on the outside. In the ring Lashley hits a staling suplex for 2. Lashkey goes for a dominator but Truth hits John Cena's spinning powerbomb with the  5 knuckle  shuffle he goes for the AA but after a counter Lashley hits a flat liner. Spear attempt by Lashley but Truth evades and rolls up Lashley to eliminate him ! Lashley beats the hell out of Truth post match ending the assault with a spear. Andrade makes his return and is out next against R- Truth. As the ref is tending to Truth Andrade starts his Assault. Andrade targets the arm that Lashley damaged. Andrade hits his double knees in the corner for a nearfall 2 count. Andrade goes for a hammer lock DDT but Truth evades. Andrade goes for a high knee in the corner Truth ducks and Andrade takes a nasty spill to the outside. Truth mounts a comeback in the ring. Andrade goes for a spinning back elbow and the two men hit heads Truth falls on Andrade for the 3 count. It appears Andrade is legit hurt. Erick Rowan is out next. The big man splashes Truth in the corner followed by a slam and now an assault from Rowan. Truth gets Rowan on the outside and hits a dive.. Rowan punishes Truth outside the ring. Rowan hits Truth with the steel steps causing a DQ and Truth moves on . Rowan hits an Iron Claw slam on Truth. The Phenomenal AJ Styles is out next. Styles slowly walks to the ring. Styles taunts Truth. Truth goes for a punch and falls. Styless does a funny R Truth like dance and stomps on Truth. AJ continues alternating dancing and kicking Truth. Styles punishes Truth's leg and locks the caf crusher in to eliminate R Truth. Rey mysterio's music hits but hes no where to be seen. Styles is laughing. Backstage The OC are attacking Rey Mysterio. Stlyes gets on the mic and declares himself the gauntlet winner. He tries to get the ref to raise his hand the reffere refuses. He tells the time keeper to ring the bell. The ring announcer says AJ's opponent has ti the count of ten to get to the ring. backstage the OC are knocked down. We see a man in a long black coat pass the frame and then... The Undertaker's music hits.  The dead man has entered the building. Undertaker is officially entering the gauntlet match. Styles argues with te reffere and turns around into a chokeslam.  Undertaker pins Styles and wins the Tuwaiq Mountain trophy.
WINNER OF THE TUWAIQ MOUNTAIN TROPHY - THE UNDERTAKER
Backstage The New Day hype up their title defense and say they will defeat The Miz and Morrison.
Smackdown Tag Team Championships The Miz and John  Morrison vs The New Day (c) 
Big E and The Miz start things off. The miz takes control before tagging in Morrison who eats a belly-to belly and then tags in Kofi. Frequent tags from New day who control Morrison before he knocks Big E off the apron and dives on to him. Morrison and Miz hit a double gutbuster miz hits a knee for a pin but Big E kicks out at 1. Miz and Morrison  continue tagging in and out. Morrison hits a springboard enzguri on Big E for a 2 count. After a tag to Miz Big E Uranges Miz and tags in Kofi as Miz tags in Morrison. After some house cleaning Kofi hits a mushroom stomp on Morrison for 2 . Morrison hits a roll through alabama slam followed by a kick  for 2. Kofi comes back Big E is tagged in. Big E has Morrison up for a powerbomb as Kofi hits a stomp from the top rope for a 2 count.  After a little whileMiz and Morrison regain control. Morrison misses Starship Pain. Big E  has morrison for a pin but miz breaks it up kofi goes for a dive on Miz and misses and brutally smacks into the barricade. Miz is tagged in and hits a skull crushing finale on Big E for anotheer 2 .5 count. Kofi and Miz legal Kofi keeps trying to pin Miz with schoolboys. Kofi is near the ropes when morrison hits him with a chair behind the Referee's back. Miz rolls up Kofi and gets the 3 count. HEY HEY HO HO Miz and Morrison are the new Smackdown tag team champions.
WINNERS AND NEW SMACKDOWN TAG TEAM CHAMPIONS- The Miz and John Morrison 
Byron Saxton interviews Seth Rollins and Murphy. Rollins tells Saxton not to be negative. Rollins says he respects the Street Profits but on Raw they are in the way of his plans for the Red Brand. Rollins says he and Murphy will Eradicate the  threat of the Street Profits 
Angel Garza vs Humberto Carillo
Humberto and Garza start doing what they do best. Spring board arm drags from Carillo. Suicide dive by Carillo. Carillo does a cool move on the barricade. Carillo continues to take control on Garza. Garza takes control with a drop kick in the corner and then takes his pants off. Garza locks in a camel clutch to make Carillo humble. Garza punishes his cousin.  Carillo fires back with a jaw breaker and an enzguri. After back and forth offense from both men Garza connects with a super kick. Carillo comes back with a destroyer. Garza gets a small package for 2 . Both men exchange victory rolls until Garza wins the exchange.
WINNER- Angel Garza 
Raw Tag Team Championships-The Street Profits vs Seth Rollins and Murphy(c)
Angelo Dawkins and Murphy start the match. Dawkins pounds on Murphy. Montez Ford in. Rollins tries  getting and is kncocked outside. Ford hits a beautiful drop kck. Rollins grabs at Ford on the Apron and is hit with a knee Murphy clocks Ford into the Arabic announce table. Murphy back in and he controls Ford. Murphy lands a meteora for 2. Tags back in forth between Rollins and Murphy who take turns wearing down Ford. On the outside Ford launches Murphy into the barricade. Rollins goes for Ford and misses. FOrd tries to tag in Dawkins but Murphy pulls him off the apron. ROllins and Murphy hit a buckle bomb enzguri combo for 2 cause Dawkins breaks it up. Dawkins gets the tag and cleans house. Ford and Rollins are legal. Ford hits a enzguri and goes for a splash and connects Murphy puls ford out the ring at 2. Ford chases Mrphy and Dawkins sends Murphy flying across  the announce table. Rollins comes back for his team and Murphy recovers. ROllins and Murphy go for a double pedrigree the profits turn it into a double DDT. Ford goes for a Plancha but Rollins and Murphy catch him and slam him into the barricade. Dawkins takes them out. Murphy and Dawkins legal. Murphy distracts the Referee as Rollins stomps Dawkins on the apron and Murphy covers him for the pin.
WINNERS AND STILL RAW TAG TEAM CHAMPIONS -Seth Rollns and Murphy.
Replay of the Kickoff show.
Dolph Ziggler w/ Robert Roode vs  Mansoor
Robert Roode slaps Manssor before the match. Mansoor then dropkicks Roode. Roode is ejected from the match. Ziggler and Mansoor kick things off with some good old fashion chain wrestling. Mansoor takes Ziggler down with a  shoulder tackle. Standing moonsault by mansoor for a 2.5 count. Ziggler dropkicks Mansoor for a 2 ccount. Ziggler with the advantage now. Ziggler wears down the arm of Mansoor. Mansoor starts a comeback.  Beautiful springboard neck breaker by Mansoor. Slam by manssor for 2 . Manssor goes for a Moonsualt ziggler knocks him down and hits the Zig Zag for a nearfall. Small package by dolph for 2. AMazing  Inverted Slice bread DDT by Mansoor followed by a moonsault for the pin and the win.
WINNER - Mansoor
Post Match Mansoor  adresses the crowd. He tells the crowd they give him hope. Mansoor says he is happy to be the first WWE superstar from Saudi Arabia
WWE Championship - Ricochet Vs Brock Lesnar (c) w/ Paul Heyman
Ricochet dropkicks brock but gets swatted, slammed and eats some german suplexes from the beast. F-5 by Lesnar for the win.
WINNER AND STILL WWE CHAMPION-Brock Lesnar.
King Corbin vs Roman Reigns - Steel Cage Match
Corbin gets the match started off by ambushing Reigns as he has locking the cage door up. Slams Roman into the cage wall, then scrapes his face across the mesh to take early control. Corbin goes for an early escape but Roman intercepts, bringing the action back into the ring after a scuffle on top of the cage.
Roman attempts a Superman Punch but is countered by Corbin. Roman follows up with an attempted Spear, Corbin counters into a Deep Six but only achieves a 2 count. After trying to get the cage key out of Roman's pocket, Roman fights back only to end up eating a power bomb type slam.
Corbin has the cage unlocked! Roman grabs him before he can leave but eats a bunch of punches from The King. Roman once again grabs onto Corbin to stop him walking out of the cage, then slams the cage door into the kings face. Missing another Superman Punch, Roman ends up taking a big chokeslam but again Corbin can only keep the big dog down for 2.
With the door chain in his hands, Corbin charges up his own Superman Punch only to be taken down by the original. Roman keeps him down but only for another 2 count. Corbin is up first and trying to climb the cage to escape, but Roman is in pursuit. Both men sit on top of the cage trading blows, ending with Roman hanging down the outside of the cage! Corbin manages to pull Roman back up with one hand, the fight continues back on the inside.
After a fight on the cage wall, Corbin finds himself getting caught up on the ropes, resulting in 2 superman punches. Roman hits one final Superman Punch with the chain in hand for the 1, 2, 3.
That was... a match. Very underwhelming.
WINNER - Roman Reigns
Super excited for the R truth WWE 24 episode. Quick recap of The Undertaker attacking AJ earlier in the night.
WWE Smackdown Women's Championship - Naomi Vs Bayley (c)
Bit of collar and elbow to kick things off, Naomi takes early control with some quick offence before hitting a split leg drop for a 2 count. Bayley grounds Naomi with submission holds but Naomi with more quick kicks gets back on top. A beautiful corkscrew plancha to the outside takes out Bayley, but she somehow manages to overcome Naomi's offence back in the ring to get back on top.
More back and forth, with both women trading near falls and plenty of rest holds. Naomi hits with a few kicks but misses with an enziguri. Bayley hits yhe Bayley to Belly but it only brings a 2 count. 
Bayley wants a top rope elbow drop but Naomi cuts her off with a big kick. A split leg moonsault misses, Bayley tucks Naomi's leg into her own shirt before hitting her finisher for the win.
WINNER AND STILL WWE SMACKDOWN WOMEN'S CHAMPION - Bayley
Up next it's the main event...
WWE UNIVERSAL CHAMPIONSHIP - Goldberg Vs "The Fiend" Bray Wyatt (c)
Goldberg starts things off with a very quick Spear. Fiend kicks out kicks and locks in a Mandible Claw. Goldberg fights his way out and hits 3 more Spears in quick succession. Another quick kick out from The Fiend and another Mandible Claw locked in.
Knees from Goldberg, hits The Jackhammer and picks up the win.
Abysmal booking. I'm done.