What WWE Wants To Know From WWE Network Free Previewers
WWE recently sent out a new WWE Network survey to people that signed up for a free preview last July. Our friend Ricky Murph II received the survey and passed it along for everyone to read. Below, you'll find the questions followed by screen shots of the actual survey:
We sent this survey to an email address which was used to sign up for a preview for WWE Network last July. Did you personally sign up for the free preview of WWE Network?
Yes, I signed up to try WWE Network myself
Yes, I signed up on behalf of another member of my household who was interested in trying WWE Network
No, I did not sign up but someone in my household signed up using this email address
No, I am not aware of anyone in my household signing up for a free preview of WWE Network
Do you currently have access to WWE Network?
Yes, I currently subscribe to WWE Network
Yes, I use the login from someone in my household
Yes, I use the login from a friend/relative not in my household
No, I do not have access to WWE Network
Where do you have access to a broadband internet connection? (Select all that apply)
At home
At school or library
Mobile wireless through my laptop, smartphone or tablet
I do not have access to a broadband internet connection
At work
How frequently do you use your home or mobile broadband connection to stream video or download video? This includes all types of videos such as short video clips, music videos, TV shows, movies, live events, etc..
All the time
Often
Occasionally
Rarely
I have never watched video downloaded over the internet
Which of the following online video streaming networks or services do you currently use in your home?
YouTube
Crackle
Netflix
Twitch
HBO Go
Hulu Plus
Crunchyroll
Amazon Prime
UFC.TV
ESPN
VEVO
MLB.TV
None of the above
Which of the following internet connected devices do you own or have access to at home?
Media player/streaming (Roku, Apple TV, Chromecast, etc.)
Internet-connected DVD/Blu-ray player
Internet-connected game console (Xbox 360, Wii, PS3)
Chrome cast
Tablet/iPad
Smartphone
ereader
Smart TV (internet connected TVs)
Laptop/notebook computer
Desktop computer
Which type of Smart TV or Blu Ray player do you own?
Samsung
Vizio
Sony
Other/Don't Know
The last few questions are about your interest in WWE.
How would you describe your interest in WWE?
Very interested
Somewhat interested
A little bit interested
Not at all interested
Don't know
How often do you watch WWE content on TV (eg. RAW, SmackDown, Main Event, pay-per-views?)
A least once every month
Less than once a month
At least once in the past month
I have not watched WWE content in TV in over a year
I never watch WWE programming
How many times per month were you typically watching Monday Night RAW or SmackDown on TV?
Every week
3 times per month
Twice per month
Once per month
Finally, the last couple questions are for categorization purposes.
What is your age?
Less than 18
18-24
25-34
35-44
45-54
55-64
65-69
70 or older
Please indicate your gender
Male
Female
Which range best represents your yearly household income before taxes for 2013?
Do you consider yourself Hispanic or Latino/Latina
Yes
No
Prefer not to answer
And, do you consider yourself…?
White or Caucasian
Black or African American
Asian or Pacific Islander
Other
Prefer not to answer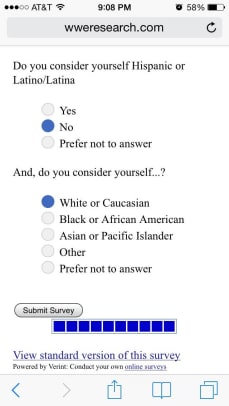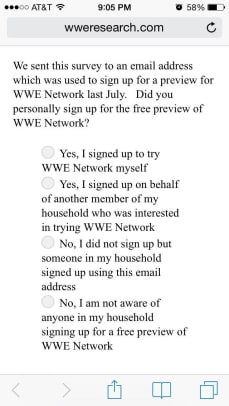 Download our FREE App! Dirt Sheet for iPhone, Android and iPad.